Alpha Kappa Alpha Sorority, Inc. Spreads Birthday Cheer at the Harry and Jeanette Weinberg Inter-Generational Center in Silver Spring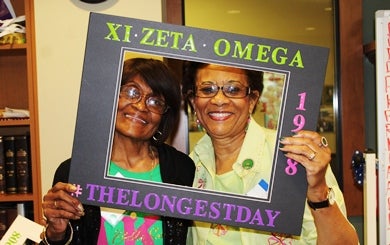 Wednesday, June 23rd, Xi Zeta Omega Chapter of Alpha Kappa Alpha Sorority, Inc. (AKA), one of the original, historically black sororities and advocacy groups, joined Easter Seals for the June birthday celebration at The Morris & Gwendolyn Cafritz Foundation Adult Day Services in the Harry and Jeanette Weinberg Inter-Generational Center in Silver Spring, MD. Volunteers came to spread birthday cheer, and spend quality time with the clients at the Adult Medical Day Services.
AKA volunteers played an exciting game of bingo with the clients at the center, and brought along a birthday cake to celebrate all of those with recent birthdays. One of the Easter Seals clients, an AKA Golden Soror, a member of the organization for more than fifty years, wore an AKA themed outfit for the occasion.
Since the sorority's founding over a century ago, by a group of college-trained women of color, just one generation removed from slavery, Alpha Kappa Alpha's mission has been to cultivate and encourage high scholastic and ethical standards, to promote unity and friendship among college women, to study and help alleviate problems concerning girls and women in order to improve their social stature, to maintain a progressive interest in college life, and to be of "service to all mankind."
Easter Seals is committed to advancing opportunities for children and adults with disabilities or special needs, including wounded warriors, military personnel, veterans and their families. We thank the women of AKA for their support, and we look forward to our continued partnership in changing lives.
For more information about our Adult Day program, please visit us HERE.