Easter Seals Caregivers Honored During Direct Support Professionals Recognition Week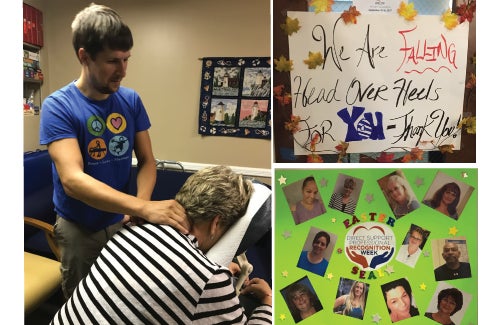 Service providers for people with disabilities and special needs across the country recently celebrated their caregivers in honor of Direct Support Professionals Recognition Week.
Maryland Gov. Larry Hogan also offered official recognition by signing an official proclamation designating Direct Support Professional Recognition Week 2017. The Maryland Department of Disabilities and Developmental Disabilities Administration also partnered to travel the state thanking outstanding professionals and providers with visits and presentations of Governor's Citations.
The week of September 10-16 has been designated for recognizing the dedication and accomplishments of those outstanding professionals who provide long-term services and support, and expressing appreciation for their vital contribution to communities across the country. Easter Seals Serving DC|MD|VA staff, at our three Adult and Senior Services centers, were recognized with specially-created artwork and decorations celebrating their contributions displayed around the workplace. Staff members were also treated to massages provided onsite.
Non-profit providers such as Easter Seals, play a crucial role in enhancing and supporting the lives of people with disabilities and their families. But it's our dedicated staff that performs the hands-on work which allows people with intellectual and developmental disabilities (as well as the military families and veterans we serve) to live, learn, work and play in our community. "Our direct support professionals are hard-working, dedicated men and women, who sacrifice a lot to support the people with disabilities we serve," said Elizabeth Barnes, Easter Seals' Senior Director of Adult and Senior Services. "Small gestures, such as the special artwork celebrating our staff and the massages we provided them are just another way to show our appreciation during Direct Support Professionals Recognition Week for the vital work they perform all year round."
For additional information about our Adult and Senior Services centers, please visit us HERE.