A Busy Day in Baltimore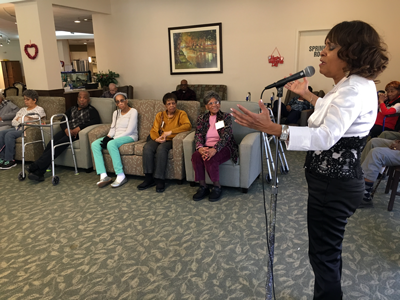 Clients at The Edward N. and Della L. Thome Adult and Senior Care Center on the Harry and Jeanette Weinberg Campus recently enjoyed a fun day that included a lunch outing, musical performance and birthday celebration.
Clients were taken to a local Red Lobster restaurant to enjoy a lunch of seafood, where of course, plenty of the famous cheese biscuits were enjoyed with the meal.
The lunch outing was followed by a musical performance back at the Center from local jazz song stylist Larzine Talley, who serenaded clients with jazz standards made famous by the likes of Billie Holiday, Lena Horne, Josephine Baker, Dinah Washington and Nancy Wilson, as well as some pop and R&B classics from the 60's.
Our Adult and Senior Care centers hold monthly birthday celebrations. Eight of our Baltimore clients have January birthdays, and they were celebrated by all with a choice of vanilla and chocolate cake.
For more information about the services offered there, please contact Center Director Kim McKay at (410) 277-0940.