Camping & Recreation
Easterseals Camp is a week-long resident camp serving children and adults in the San Bernardino Mountains. Held at Camp Oakes, an accredited American Camping Association site, Easterseals' camps offer children and adults with disabilities the same excitement and activities available at other camps.
For more than 40 years, campers and volunteers from all walks of life have come together for one magical week of camp. Activities include crafts, hayrides, talent shows, dances, swimming, canoeing, archery, hiking, concerts, storytelling, and a high and low ropes course.
Camp elevation is 7,300 feet
The camp is co-ed and campers must have some communication skills
The counselor to camper ratio is approximately 1:2.
Campers stay in dormitories or 3-sided cabins
Restrooms and showers are available
A registered nurse is on 24-hour duty
Dates
August 5-11, 2018
2018 Applications
New Camper Application will be available May 1
Returning Volunteer Application will be available May 15

New Volunteer Application will be available May 15

Donations
Easterseals Camp relies on donations to ensure that anyone who wishes to experience the joys and challenges of camp in a fully-accessible setting can attend.
>Donate to our Special Camp Fund!
Donate today and support our annual Easterseals Camp.

>Donate Here to Support a Camper You Know!
Donations made here allow you to specify the name of the person your donation is helping to attend Easterseals Camp.
>To Donate by Check or Money Order:
Please make your check payable to "Easterseals"
Mail to:

Easterseals Southern California
Attn: Special Camp Fund
401 S. Ivy Street
Escondido, CA 92025
The Camp Experience
Watch this video to learn more about Easterseals Camp.

You can also view this video at this link: https://youtu.be/UEREdS8nB8I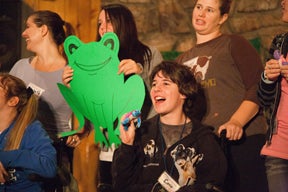 "Going to camp opened my eyes and changed the person I was inside and out. I saw how everyone was being treated and I realized that all I wanted all these years was... to be treated like everyone else. This is the best experience I ever had." - Lora Glassman
Click here if you'd like to donate online to help someone you know go to camp.


More Information
For more information please email the Camp Program Director or call 951.264.4855.