Program Services Map
Services offered in New Jersey by county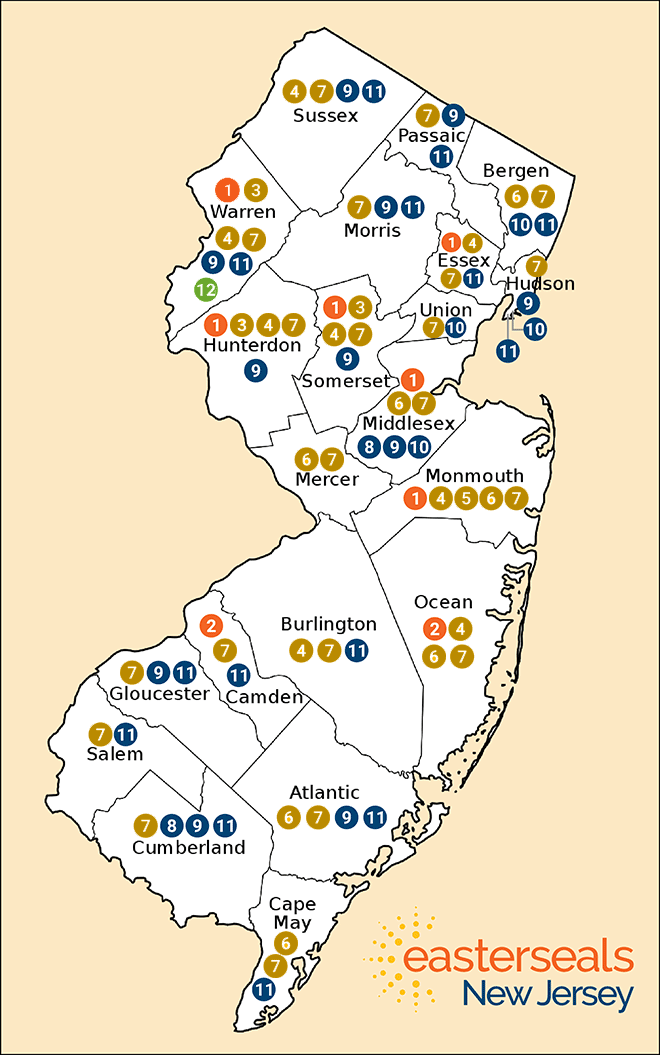 Key:
LIVE



(1)

Residential Services: Self-maintenance, medication education, and/or skill development for people with serious mental illness.

Essex
Hunterdon
Middlesex
Monmouth
Somerset
Warren
(2)

Residential Services: Daily living support for people with intellectual and developmental disabilities.

LEARN



(3)

Case Management (ICMS): Plan of care that supports adults diagnosed with mental illness' goals and preferences while prompting independence.

Hunterdon
Somerset
Warren
(4)

Case Management (Supportive Housing): Plan of care that supports adults diagnosed with mental illness and manages housing subsidies and linkages.

Burlington
Essex
Hunterdon
Monmouth
Ocean
Somerset
Sussex
Warren
(5)

Monmouth Behavioral Health Home: Care coordination for individuals diagnosed with a mental illness to get connected to the health and community services.

(6)

Day Habilitation: Community-based program that teaches individuals with intellectual and/or developmental disabilities valuable life skills through instruction and real world experiences.

Atlantic
Bergen
Cape May
Mercer
Middlesex
Monmouth
Ocean
(7)

Community Based Individual Support Program: Provides individuals with an intellectual and/or developmental disability the assistance of a Direct Support Professional (DSP) on a one-to-one basis.

WORK



(8)

Extended Employment/Prevocational Training: Individuals learn work-readiness skills that will prepare them to work out in the community at an actual job site while earning a paycheck.

Hunterdon
Somerset
Warren
(9)

Supported Employment: Job coaches work with participants to identify career goals and successfully transition into customized competitive employment.

Cumberland
Gloucester
Hudson
Hunterdon
Middlesex
Morris
Passaic
Somerset
Sussex
Warren
(10)

Senior Community Service Employment Program (SCSEP): Job coaches provide mature workers (55+) with the training and support to re-enter the modern workforce.

Bergen
Hudson
Middlesex
Union
(11)

Career Pathway Connections: Helps individuals that are deaf and hard of hearing to obtain sustainable employment with job readiness training and assistive technnology demonstrations.

Atlantic
Bergen
Burlington
Camden
Cape May
Cumberland
Essex
Gloucester
Hudson
Morris
Passaic
Salem
Sussex
Warren
PLAY



(12)

Camp Merry Heart: Fully accessible 123 acre camp offering year-round programs for children and adults (ages 6 - 96+). Rental options for groups up to 175 available to the public.

Located in Warren county but can serve all 21 counties in NJ
Download Easterseals New Jersey Program Services Map - PDF
Last updated: January 28, 2020