Supported Employment
Whether an individual is looking for competitive, customized, or self-employment, Easterseals staff are ready to provide the support they need to succeed. In our Supported employment program, job coaches work with participants to identify career goals and achieve them.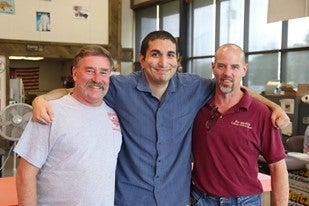 Through individualized support and training, participants have all the tools they will need to transition into a new career.
Services include:
• Job coaching
• Site-analysis
• Benefit support
• Long-term follow along supports
• Project management training
• Job sampling
• Job placement
• Equipment training
• Communication training
• Pre-vocational evaluations
• Work adjustment training
• Short-term evaluation
Population Served
Adults with intellectual/developmental disabilities, physical disabilities, special needs, mental illness and young adults finishing high school.
Frequently Asked Questions
How long does the process take?
Intake appointments for services will be scheduled within one week from the day we receive your referral from the Division of Vocational Rehabilitation Services (DVRS). Timelines for services vary depending on the job goal and barriers that need to be addressed. The purpose of our services is not only to ensure that you obtain employment, but that you obtain a job that is a match for your skills and provides opportunities for you to advance into a career pathway.
---
How can I keep my benefits?
It is a common misconception that individuals receiving SSI/SSDI cannot work without losing their benefits. We understand that this issue can be concerning, and we will support you with understanding how you can successfully work while maintaining you benefits, including your health insurance. We work closely with DVRS to connect you with a Benefits Counselor, who can ensure that you have a clear understanding of this process.
---
What exactly is the role of the Employment Specialist?
Employment Specialists are responsible for matching job applicants to a specific job that suits their talents. They ensure that the candidate has the right skills for the job, and are also a resource for the employer. A few of the main duties of an Employment Specialist are: assessing the skills of the job candidates, conducting and facilitating mock interviews, helping candidates create a resume and apply for jobs, supporting through pre-employment and onboarding, and monitoring job retention. Once the job candidate is successfully maintaining their employment, the Employment Specialist will help the employee to understand job advancement opportunities to take their career to the next level.
---
What happens after getting hired?
Employment Specialists will provide support throughout the entire orientation and onboarding process. This includes completing necessary paperwork, understanding company policies, obtaining uniforms (when required), addressing transportation and scheduling issues, and intensive on the job support through the first several weeks of employment (if needed). The level of involvement of the Employment Specialist is entirely up to the client. If the client prefers off-site or virtual supports, those options are available as well.
---
How much time can an Employment Specialist spend with the client?
The amount of time can vary, depending on the amount of support that the client may need. Some clients are less eager to obtain employment and may only meet with the Employment Specialist a few hours per week. Other clients that are actively seeking employment or recently obtained employment may require the intensive support of an Employment Specialist during their onboarding and may work with an Employment Specialist for 20 hours in one week. The amount of time provided is entirely dependent on the clients need.
---
What if I do not have reliable transportation?
We understand that lack of transportation options presents a major barrier to successful employment for those with disabilities. Addressing transportation concerns is our first priority when assisting with job placement. Our team will provide you with a variety of travel options and make every effort to support you with coordinating transportation. Our Employment Specialists can provide assistance to help you connect with and learn about NJ Transit, AccessLink, county transportation services, and/or using rideshare apps such as Uber or Lyft. Employment Specialists will also provide travel training to ensure that you are able to use your transportation service independently with confidence.
---
Do your services help with funding certifications?
The Division of Vocational Rehabilitation Services (DVRS) may pay for certain certifications or training programs if the training meets the requirements outlined by DVRS. Decisions are made on a case-by-case basis. If there is a certain training or certification program in which you are looking to enroll, make sure that you tell the DVRS counselor when requesting services.
---
What if I do not want to work nights or weekends?
Our staff will always try to accommodate the client's preferences, however we strongly suggest that job seekers are flexible and consider the industries in which they plan to work. For example, if a client desires to work in retail or food service, availability for nights and weekends is almost certainly going to be a requirement of the employer. We will work with you to find the best match for your availability.
---
How does scheduling work?
Employment Specialists will schedule meetings with you based on your availability. The Employment Specialist will reach out to you via your chosen contact method (text, email, phone, Zoom, etc.) to see when and where you would like to meet. We are willing to travel to you, and you are welcome to meet with us at any of our career centers throughout the state. We are also open to meeting at libraries, cafes, or any other pubic place that has a quiet, clean, and safe environment and is easily accessible for you.
---
Can you help me find a job while working another job?
We can only provide services to either help you find a job or maintain your current job. We are not able to provide both services at the same time.
To learn more about Supported Employment call 855.215.4541.
Last updated: October 11, 2022