Bright Spots From a Dark Year...
The Easterseals 2021 Annual Impact Report is here! Read about how, with the help of our supporters, we were able to make a positive impact on the lives of people with disabilities.
See the Impact
Our Mission
To enrich the lives of people with disabilities and special needs, and those who care about them, by providing opportunities to live, learn, work, and play, in their communities.
Show Me Information For
Are You Ready to Get to the Other Side?
Access for All Is Just Around the Corner
Our "On the Other Side" campaign is all about providing opportunities for people with disabilities to get to the "other side" of the barriers keeping them from achieving their goals.

Make a Difference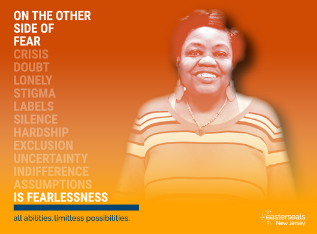 What's New At
Easterseals New Jersey
Trek Trips
From August 19-21, Easterseals New Jersey will be enjoying Hershey, PA! If you are interested in Trek Trips, please contact us at recreation@nj.easterseals.com or call 855-215-4541 and press 4 to speak with a recreation staff member.
Recent Posts From
Easterseals New Jersey