Events
Play With Purpose - 2020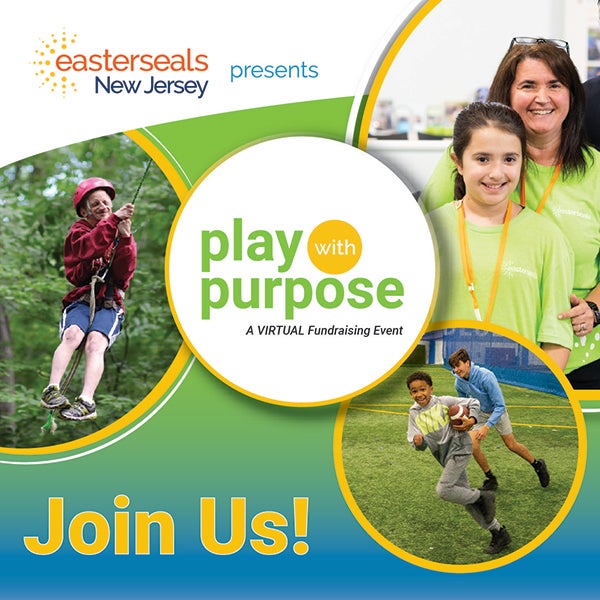 All throughout July we will be celebrating accessible recreation for people with disabilities. This year's event will be entirely VIRTUAL so you can participate wherever is best (and safest) for you. Register today and get in on the fun!
Give Back Where it Counts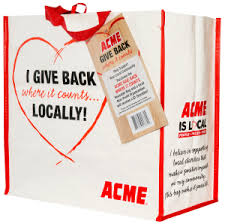 Easterseals New Jersey will receive a $1 donation for every $3 reusable GIVE BACK WHERE IT COUNTS Bag sold during the month of January at the ACME located at:
300 Ryders Lane
Milltown, NJ
Macy's Your Extra Change Can Help Your Community Round-Up Program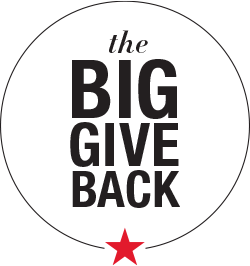 Dates: February 1st – 15th
Location: Macy's in Brunswick Square Mall
755 Route 18, East Brunswick, NJ 08816
Macy's Brunswick Square has selected Easterseals New Jersey to be the recipient of their 2020 Your Extra Change Can Help Your Community Round Up Campaign. Customers at Brunswick Square have the opportunity to voluntarily round up their purchase up to the nearest dollar (up to $.99) and donate the difference to Easterseals New Jersey. When customers check out, the ask is made via the pin pad at every register where Easterseals New Jersey is clearly stated as the beneficiary.
Advocacy Week 2020
March 2nd - 6th
During Advocacy Week the Advocacy Network will be meeting with members of leadership in both chambers of the legislature and key Freeholders to share stories of the work they do and the impact of Easterseals NJ.
• Meet our legislators
• Advocate for New Jerseyans with intellectual disabilities & mental health challenges
• Fight for funding for day habilitation, accessto mental health services & living wage for DSP's
www.eastersealsnj.org/advocacy/advocacy-week.html

Camp Cleanup Days!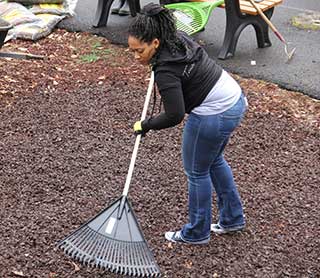 Throughout March
Camp Merry Heart, 21 O'Brien Road, Hackettstown

Come help Camp get ready for summer! We are in need of help of all shapes and kinds. Volunteering at Camp is a great community service opportunity for businesses & groups. E-mail camp@nj.easterseals.com
Advocacy: Capitol Hill Day 2020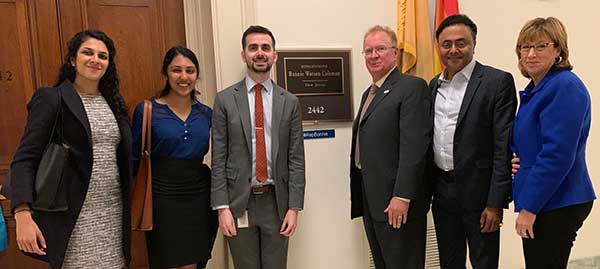 April 20th-21st | Washington, DC Join Easterseals affiliates from across the nation to march on Capitol Hill and advocate for the funding and programs that support youth, adults, seniors and veterans with disabilities. Together, we will meet with all congressmen and women including New Jersey's representatives and senators to discuss making a difference in the communities they represent and serve.
National Day of Giving April 22nd | Statewide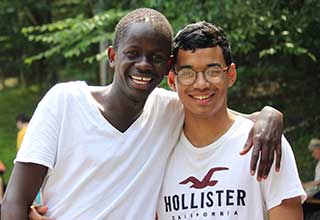 Join us for our virtual day of giving in support of people with disabilities! www.eastersealsnj.org/donate
---
Recent Happenings

Dec 3, 2019
Join the #GivingTuesday movement!
When we share our generosity, we inspire others to give back too.
How you can get involved:
• Spread the giving beyond #GivingTuesday
The giving doesn't have to stop on December 3rd! Through "12 Days of Khrismas," which kicked off on Giving Tuesday, Kris Middleton of the Milwaukee Bucks, engaged in twelve acts of service between Giving Tuesday and Christmas Day. Way to go Kris! You can continue your acts of kindness all the way to Christmas, too!
• Help provide a holiday meal
Detroit Lions tight end, Michael Roberts, defensive back, Charles Washington, and cornerback Jamal Agnew partnered with Q'doba to serve a meal to clients of Neighborhood Service Organization in Detroit. Help make the holidays a brighter time for Easterseals New Jersey participants by collecting canned foods, other non perishables, or donating fresh turkeys!
• Create care bags for Easterseals New Jersey participants
Some Easterseals participants are often in need of basic daily care items. Creating bags with personal care, household, or day-to-day essentials is a great way to help. Or perhaps you want to create bags of fun items to bring cheer to their holiday season - get a group together and create some much needed care packages!
• Challenge coworkers to help respond to community needs
Join together with your colleagues to collect coats & blankets for our participants in need of some warm clothing.
• Fundraise for your favorite cause – Easterseals New Jersey!
Launch your own #GivingTuesday campaign on social media to support Easterseals New Jersey. Create a Facebook Fundraiser to help support our mission through your social network. Orgive a gift directly through our link,
www.eastersealsnj.org/givingtuesday/
• Write cards to our participants
Taks some time to write holiday cards. You make the cards, and we will distribute them to our participants. They will love hearing from you!
If you'd like more information about these acts of kindness, please email us at
giving@nj.easterseals.com or call us at 732.257.6662. Ask for Rebecca Maier
---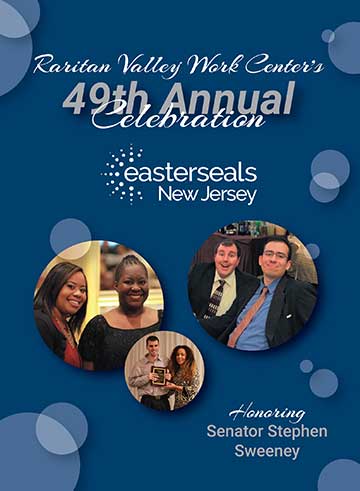 RVW staff, program participants, and supporters all came out for the 49th annual celebration of employment and disability. As always, the dancing and the dinner were both fantastic. In addition, we recognized our biggest supporters and most valued employees during an awards ceremony. We couldn't be prouder of all those who were honored at this event.
We were also able to award Senator Stephen Sweeney the Clark J. Paradise award (1 of 14 EVER to receive the honor) for his continued support of Easterseals and the disability community in New Jersey.
If you would like to learn more about the services provided at our RVW site, check out our Extended Employment program.

Check out the full celebration recap photo album.
---
Open House: Career Pathway Connections Woodbury Open House - October 3rd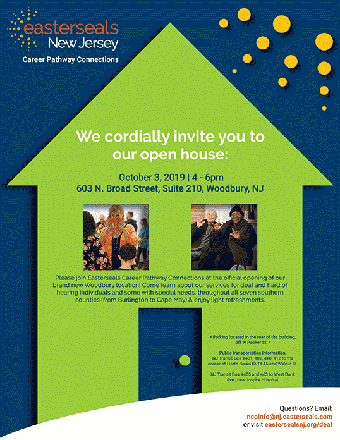 On October 3rd, we hosted the grand opening of our latest Career Pathway Connections office in Woodbury, New Jersey. Local legislators and news outlets attended to help publicize and celebrate the event. We are so grateful for everyone who attended the event to help make it such a remarkable occasion.
Check out the full Woodbury open house recap photo album.
If you'd like to learn more about the services provided at our Woodbury location, visit our Career Pathways Connections page.

Learn more about the services we are offering to the deaf community, and those living with hearing and vision loss!

---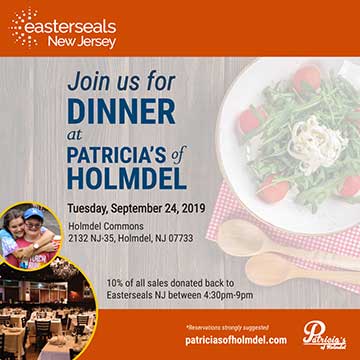 q
Enjoy a delicious Italian meal at Patricia's where 10% of sales will be donated to Easterseals New Jersey.
Tuesday, September 24th 4:30-9pm
Patricia's of Holmdel
2132 State Route 35
Holmdel, NJ 07733-1002P
(732) 275-0234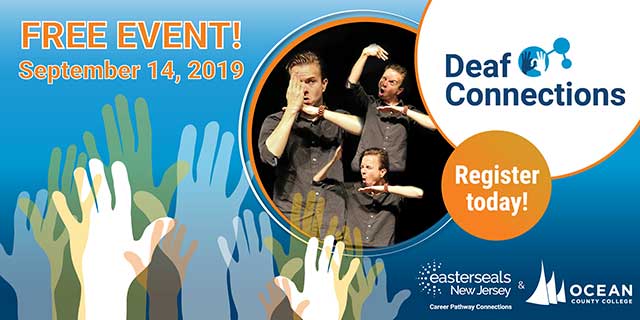 Experience deaf culture through entertainment, guest speakers and exciting networking opportunities. Connect with businesses and learn about resources for employment. Engage with the deaf community and be part of the movement that promotes equal access, involvement and empowerment for all!
Exercises In Empathy Pop-Up Events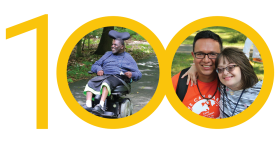 Our "Exercises in Empathy" Pop-ups are an invitation to you and other event attendees to increase your empathy and understanding of others' journeys.
Visit our booth and take time to walk through one or all of our short simulated activities that are crafted to show you what living with a different level of ability could be like and why ACCESS for all is vital. With each step we take towards bettering ourselves and increasing our own empathy we are one step closer to making the world a better place for others and specifically for people with disabilities.
Upcoming Pop-Up Event Dates
7/26 - 7/28 l Readington NJ Balloon Festival
8/5 - 8/11 l Middlesex County Fair
9/14 l Festival in the Borough
Lakewood Blueclaws Baseball Game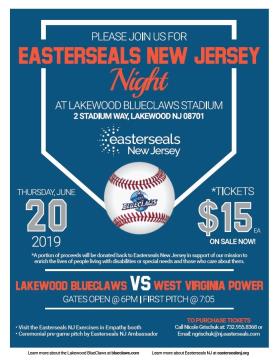 Celebrate Easterseals New Jersey Night at FirstEnergy Park for the Lakewood BlueClaws baseball game on Thursday, June 20th. Join us for a night out at the ballpark, bring your friends and family – it's the perfect outing for Father's Day! Easterseals New Jersey will even have a special pop-up in honor of our 100th Anniversary with interactive activities. Be sure to stop by and participate. Let Nicole know how many tickets you will need at ngrischuk@nj.easterseals.com or 732-955-8368. *Ticket amounts greater than 8 will be given based on availability.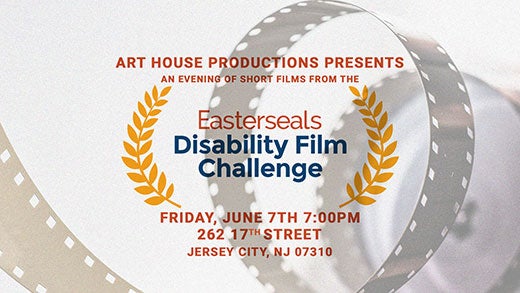 Play With Purpose 2019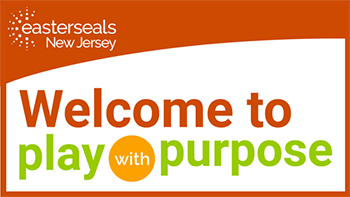 We are proud to present our 2nd year of Play with Purpose. This ½ day of fun recreational activities is for everyone regardless of age, ability or fitness level! PLAY is important to everyone's wellbeing and goes beyond exercise and athletics. This year we will play around with some nerf items and also feature performances from the New Jersey Symphony Orchestra. Bill Spadea of NJ 101.5 and Chasing News will serve as our emcee and we are working on some special guests and ambassadors!
Play with Purpose will be held at Sportika in Manalapan, NJ – 170,000+sq ft sports facility that boasts an Olympic regulation turf field, 7 high school regulation basketball courts, academic mentoring and so much more. Not to mention –it's all indoors and we can enjoy PLAY rain or shine!
The goal here is to PLAY while we raise funds to advance the mission of Easterseals NJ. Fundraising can be done individually or in teams.
It's easy to share our cause with friends, family and community members – remember – sharing the message is important for us to reach our goals!
Mark your calendars for May 11, 2019 and we can't wait to tell you more soon about how to register and make a difference.
Working Together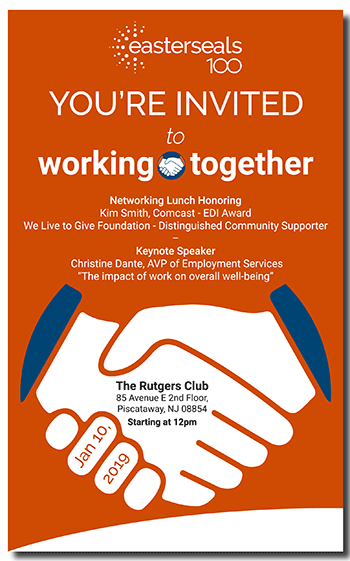 Thursday, January 10th
Starting at 12pm
The Rutgers Club
85 Avenue E, 2nd Floor
Piscataway, NJ 08854
Come celebrate employment opportunities for people with disabilities and special needs. At this event we'll be featuring vendors and guest speakers at the Rutgers Club on January 10th. It'll be a time to listen, learn and act so that employment becomes an opportunity for all.
Last updated: January 22, 2021