Advocacy
Working on a more inclusive New Jersey
We believe that individuals of all ability levels should have access to limitless possibilities because everyone deserves a chance at living their best life.

Easterseals has been active in public policy advocacy since our founder, Edgar Allen, lobbied the Ohio Legislature to fund appropriate services for children with disabilities in the 1920s. We continue to actively support and promote federal, state, and local legislation that helps people with disabilities achieve independence, access, and dignity.
Stronger Together: Ways to Help
Take Action!

Each day, decisions are being made in Washington, D.C., that will affect people with disabilities and Easterseals' ability to provide services to them, as well as to meet Easterseals' mission today and for years to come. The unmet needs of people with disabilities will continue to go unaddressed if Easterseals is not engaged in educating public policy makers about people with disabilities' disproportionate reliance on government for health, education, employment, transportation and other needed services. Sign up to receive Easterseals advocacy alerts.



Connect With Us!

Disability and social media have a powerful relationship, helping keep people informed about the needs and stories of people with disabilities and special needs.

Every "like," "follow," and "share" of our content helps support the mission of Easterseals and the individuals we serve in NJ.

Stay up-to-date on all things Easterseals New Jersey by following us on one of our many social media channels.



Share Your Story With Us

Do you have a particular success story or issue you would like to share with us?

Human beings learn through stories. A well-told story can play a huge role in important conversations with decisions makers. Share yours with us and let's work together on making New Jersey a more inclusive place!


Did You Know:
Read more than 100 stories we've collected from parents of children with disabilities and from adults and seniors with disabilities in the Easterseals family across the nation who depend on Medicaid for their health, independence and well-being.

http://www.easterseals.com/get-involved/advocacy/medicaid-stories.html

These stories show how Medicaid helps so many live their lives to the fullest.


Current Legislative Alerts:
For many children and adults with disabilities, their ability to get an education, earn a living and live independently in the community is dictated by the availability of services and supports, many of which come from our local and state government right here in New Jersey.

Check back regularly for our most current and relevant legislative alerts and updates.

Proposals related to the federal budget, tax reform, deficit reduction, and strategic investments may have a direct impact on the lives of children and adults with disabilities.
People with disabilities and Easterseals have a significant stake in government programs.



---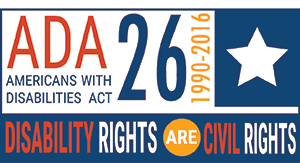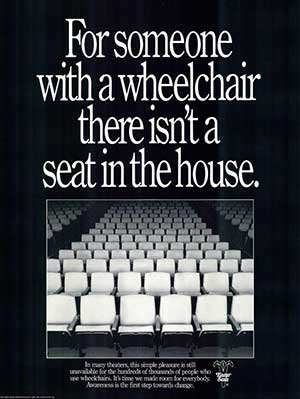 Celebrating the 26th Anniversary of the ADA
July 26, 2016 marks the 26th Anniversary of the Americans with Disabilities Act – a law that affirmed the importance of tearing down barriers that keep people with disabilities from participating in society.
This landmark law extends civil rights protections to individuals with disabilities in five key areas: employment, state and local government services, public accommodations, telecommunications, and transportation.
Exposing Barriers
"At the time of the late 1980s, too many people with disabilities were out of sight and out of the minds of the general public," says Katy Neas, a representative of Easterseals at its Chicago headquarters.
Employers could terminate employees on the basis of disability, city buses weren't required to have wheelchair lifts so people with mobility impairments could ride the bus, people relying on wheelchairs for mobility didn't know what buildings or restrooms, they could access themselves, and curb cut-outs were found few and far between, if at all.
To help raise awareness and generate support for the passing of the ADA, Easterseals launched a public service campaign that featured a series of powerful print and broadcast messages that visually depicted the daily challenges and obstacles faced by people with disabilities. "Easterseals was working to reposition what it meant to be a person with a disability; what was possible, what was necessary, what barriers existed," Neas says. "The ads were simple for the public to understand and reinforced why the ADA was necessary and why discrimination on the basis of disability was wrong and should be outlawed."
Today and Beyond
Easterseals is proud to have been a major catalyst in the development and enactment of the ADA which has paved the way for more than 54 million Americans with disabilities, their families, neighbors and communities to enjoy its benefits. But, there is still much to be done to ensure that this ever increasing population will thrive in their communities for the next 26 years and beyond. Today, and as we move forward into the next chapter of ADA history, Easterseals will continue its relentless pursuit of equality and opportunities for everyone to realize their potential and achieve their personal goals.
Materials
Get Involved!
For more information on the Americans with Disabilities Act (ADA) visit:
www.adaanniversary.org | www.adalegacy.org | www.adata.org
---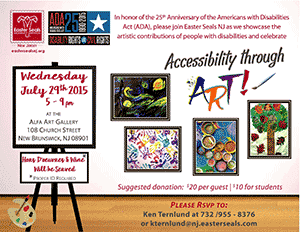 Thank you to all who attended and participated the July 29th "Accessibility through Art!" Exhibit to celebrate the 25th anniversary of the ADA.
The event was a success and truly served to showcase the amazing artistic contributions of people with all kinds of disabilities.

Below is the link to the full album which includes complete captions and artist bios. Please feel free to forward/share!

https://goo.gl/3mWcaL

---
Taking to Capitol Hill: Employment for People With Disabilities, Older Workers and Veterans IS a Priority

On Tuesday, June 24, members of 49 Easterseals affiliates across the nation gathered in our nation's capital to march on Capitol Hill and advocate for the funding and programs that support employment for adults, seniors and veterans with disabilities.
Together, we met with all of our congressmen and women including New Jersey's representatives and senators to discuss how Easterseals is making a difference in the communities they represent and serve.
Last updated: March 22, 2019