Advocacy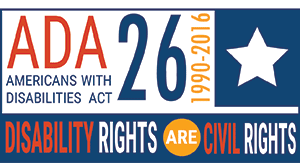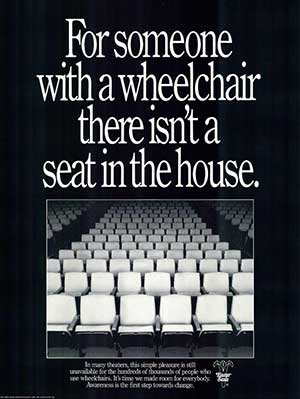 Celebrating the 26th Anniversary of the ADA
July 26, 2016 marks the 26th Anniversary of the Americans with Disabilities Act – a law that affirmed the importance of tearing down barriers that keep people with disabilities from participating in society.
This landmark law extends civil rights protections to individuals with disabilities in five key areas: employment, state and local government services, public accommodations, telecommunications, and transportation.
Exposing Barriers
"At the time of the late 1980s, too many people with disabilities were out of sight and out of the minds of the general public," says Katy Neas, a representative of Easterseals at its Chicago headquarters.
Employers could terminate employees on the basis of disability, city buses weren't required to have wheelchair lifts so people with mobility impairments could ride the bus, people relying on wheelchairs for mobility didn't know what buildings or restrooms, they could access themselves, and curb cut-outs were found few and far between, if at all.
To help raise awareness and generate support for the passing of the ADA, Easterseals launched a public service campaign that featured a series of powerful print and broadcast messages that visually depicted the daily challenges and obstacles faced by people with disabilities. "Easterseals was working to reposition what it meant to be a person with a disability; what was possible, what was necessary, what barriers existed," Neas says. "The ads were simple for the public to understand and reinforced why the ADA was necessary and why discrimination on the basis of disability was wrong and should be outlawed."
Today and Beyond
Easterseals is proud to have been a major catalyst in the development and enactment of the ADA which has paved the way for more than 54 million Americans with disabilities, their families, neighbors and communities to enjoy its benefits. But, there is still much to be done to ensure that this ever increasing population will thrive in their communities for the next 26 years and beyond. Today, and as we move forward into the next chapter of ADA history, Easterseals will continue its relentless pursuit of equality and opportunities for everyone to realize their potential and achieve their personal goals.
Materials
Get Involved!
For more information on the Americans with Disabilities Act (ADA) visit:
www.adaanniversary.org | www.adalegacy.org | www.adata.org
---
Thank you to all who attended and participated the July 29th "Accessibility through Art!" Exhibit to celebrate the 25th anniversary of the ADA.
The event was a success and truly served to showcase the amazing artistic contributions of people with all kinds of disabilities.

Below is the link to the full album which includes complete captions and artist bios. Please feel free to forward/share!

https://goo.gl/3mWcaL

---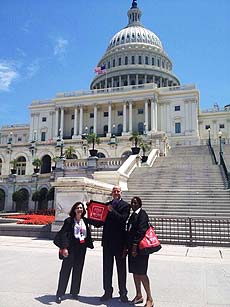 Taking to Capitol Hill: Employment for People With Disabilities, Older Workers and Veterans IS a Priority

On Tuesday, June 24, members of 49 Easterseals affiliates across the nation gathered in our nation's capital to march on Capitol Hill and advocate for the funding and programs that support employment for adults, seniors and veterans with disabilities.
Together, we met with all of our congressmen and women including New Jersey's representatives and senators to discuss how Easterseals is making a difference in the communities they represent and serve.
Updated 7/8/2016