Financials
How Your Gifts Are Spent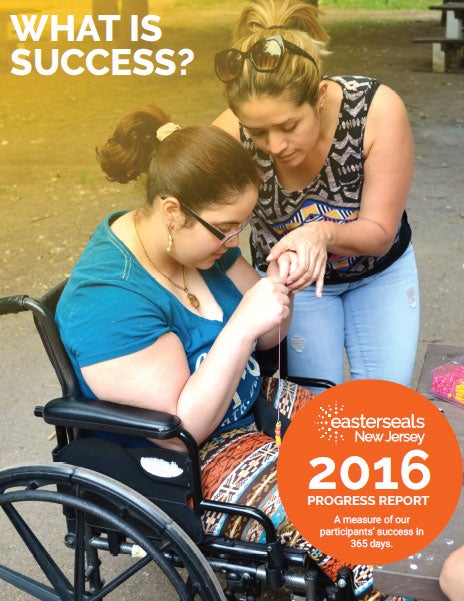 Read our annual Progress Report and learn about the individual triumphs of some of the nearly 9,000 people we served last fiscal year along with program highlights, financial information, and donor generosity that contributed to the continued growth of our mission and number of individuals served!

We are proud of our record of putting donor contributions to work effectively.
Since 1948, Easterseals New Jersey has provided services through programs designed to remove obstacles along the path to independence for thousands of individuals and families living with disabilities statewide.
These services are provided through the generosity and commitment of individual and corporate donors, and grants and funding from county, state and federal agencies.
---
Making a Difference through a Financial Gift! Donate to Easterseals
With over .90 cents of every dollar going directly to the provision of services, we are proud of our record of putting your donations to work effectively.
What are the ways you can give a gift that will have a tangible impact on the lives of people with disabilities?
Give a "Tribute and Memorial" gift and honor someone special at the same time

Consider Planned Giving - leave a lasting impact with a Legacy Gift through estate planning and "ethical wills". Gift planning is essential to ensure your legacy of caring lives on

Give a gift of real estate or property and avoid capital gains tax

Give a Life Income Gift of cash or stock that would provide you with an annual return of 5% or greater

Give an appreciated stock and permanently avoid paying capital gains tax on the increase in value and receive an income tax deduction equal to today's full fair market value of the stock!

Ask your employer if they offer a matching gift program which matching employee giving by up to 300%
* Please contact a knowledgeable staff member in our Advancment Department at 732-257-6662 to discuss which giving options may be right for you
Last updated: June 12, 2017