Events
Looking to sponsor an EBF event? Review our sponsorship opportunities and give us a call at 520.327.1529, ext 7061.
NEXT UP:

EBF at the NFL!
Sunday, December 4, 2019
Arizona Cardinals vs Los Angeles Rams

Only $35 each!






Join one of the largest century rides in America for 25, 50 or 100 miles through the Sonoran Desert in EL TOUR DE TUCSON. Sign up or donate to a Wheels for Easterseals rider today!
Date:        Saturday, November 23, 2019
Time:        7:00 am - 5:00 pm
Location:  Throughout Pima County, AZ
Cost:         Raise $500 for EBF and RIDE4FREE
   

   

   

   

   

Saturday, February 29, 2020
Phoenix Suns vs Golden State Warriors
Only $75 each!


The 50/50 raffle will benefit EBF!






First annual All Abilities Day!

A community event and EXPO
for All Abilities and Limitless Possibilities
Saturday, March 21, 2020








Golf 18 holes on the Rattler and Roadrunner courses, then stay for lunch, prizes, and raffle at the Catalina BBQ.
Or
treat yourself with a day at the AAA Four-Diamond Hashani Spa with access to all spa facilities, fitness-on-demand, an individual treatment, lunch at the Signature Grill and a gift bag.
To sign up or sponsor, CLICK HERE.
Make it a staycation and enjoy a discounted room rate at JW Mariott Starr Pass.
Date:         Friday, May 29, 2020
Time:        8:00 am Golf / 9:00 am Spa
Location:  Starr Pass Golf & Spa Resort
Cost:         $150-250 per person
                 

The premier Southern Arizona Blues Festival featuring regional acts and attracting more than 1,500 musich lovers.
Get all the latestest information and tickets at BluesinBisbee.com.
Date:         Saturday, September 19, 2020
Time:        11:00 am - 11:00 pm
Location:  Old Bisbee Park, Bisbee, AZ
Cost:         $20 per person. Purchase tickets HERE when available 
Sponsor: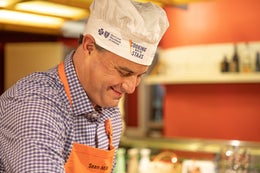 Local celebrities team with Mr. An's master teppan chefs for an unforgetable dining experience at COOKING WITH THE STARS!
Date:        2020 Date coming soon!
Time:        5:00 - 10:00 pm
Location:  Mr. An's Teppan Steak & Seafood Resturant, 6091 N. Oracle Rd., Tucson
Cost:         $300 per person
RSVP:        Here when available