Our Inspiration & Namesake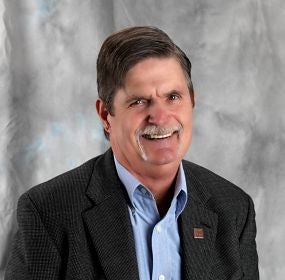 by Adiba Nelson
Who is Blake? Why Blake? What does Blake mean?
Well, I recently got the opportunity to do a little investigating and what I discovered is not nearly as important as WHO I discovered. The "Blake" in Easterseals Blake Foundation comes from local Tucsonan, danny Blake. But it's more than just his last name. Blake means strength. It means determination. It means perseverance. He came in to our meeting slightly hunched, and utilizing a walker, but with eyes as clear and alive as the day is long. As you read through this interview, you may notice that I never capitalize the "d" in "danny". He spells his first name in the lower case to remind him of his early years when he didn't understand why "he was Special and had such a different life than his siblings."
I did not know what I was about to hear, but I inherently knew I would be changed. I am about to share with you the story of a boy who was always told "you can't" (except by his parents) and went on to become a man who said "I already did".
In The Beginning There Was danny
danny Blake was born into your typical American blue collar family – Mom, Dad, siblings, the works. However it was fairly clear very early on that danny was not your typical child. After enduring a particularly grueling childbirth, danny was diagnosed with Cerebral Palsy and it was recommended that he be immediately placed in an institution. His parents staunchly refused and took their son home to join his family. In his home danny was like any other member of the family, with chores and responsibilities, and loved to play with his siblings. There was no such thing as "inclusion" in 1958 – anyone different was separate. However, it didn't take long for danny's educators to realize that his "differences" were only surface level. In the third grade he moved into the general education population, and consequently into the some of the most horrific moments of his childhood. Tormented, teased, and brutally beaten on a daily basis by his peers, danny began to hide inside his locker to escape the endless torture. While most children would let this treatment deter them from school altogether, danny continued on, and within two years his tormentors became his friends, supporters, and motivators. By his senior year he was the school President, editor of the school yearbook, and graduating near the top of his class with a 3.8 GPA. He applied and was accepted into Miami University of Ohio, but not without his high school counselor trying earnestly to convince him that he was "too crippled for college". If he knew danny's future, he would surely never have uttered such absurdities.
He attended Miami of Ohio for his freshman year and then moved with his family to Arizona, enrolled in Arizona State University to study Business Administration, and maintained almost a 4.0 GPA. Wanting to enroll in law school after graduation, danny was met with yet another naysayer, this time a college advisor, who told him that he "could never be an attorney because he was too crippled." Hearing danny tell this story, I sense the pain that he felt at that moment. There's pause, a deep breath, and I feel deeply for him as he tells me that at that moment he was the most depressed and dejected he had ever been, and was about to call it quits and drop out of school. danny turns my world upside down when he tells me that this moment was the moment that changed his life and started him down the path to a career in Social Services. Skulking back to his dorm he passed the Social Services building and registered for a class; which led to two classes, and then three, and eventually a Bachelor's, and then Master's Degree in Social Service Administration. Impressive, right? What's not impressive is that even though he had done so well in school, when he moved to San Francisco after his graduation he could ONLY find work in the local Cerebral Palsy center. No other companies would hire him, and he could only infer that it was due to his disability. Danny is a force to be reckoned with however. He accepted a position with the Cerebral Palsy Center and within six months began to work as a case manager for those with special needs and again in 6 months was promoted to a supervisor. For a person who had always been told he couldn't, danny was living the dream. Good job, great city, making $45,000 a year (which was substantial money at the time), living independently – life was good – really good. In 1984 he decided to move back to Arizona, where his dream quickly became a nightmare.
Though You Lead Me Into The Shadow of Death
Everything danny had accomplished in California - all of his prior education, his professional success, his personal growth counted for naught. Every job he applied for he was told he was "not qualified" to do, and eventually had to accept a job at a group home making $4.00/hour. To hear danny tell it, it was a humbling experience, but he is quick to joke that living with Cerebral Palsy, he didn't really need to be humbled more. It was around this time (1985) that he sought out, and became a board member of the Cerebral Palsy Foundation of Southern Arizona (now known as Easter Seals Blake Foundation), and also moved from the ranks of the group home to work on the Mentally Ill Crisis Team for Kino Hospital. His work at Kino hospital led to him working at Arizona Children's Home as a therapist to ten mentally ill boys, however, he chose not to stay long. You see, not only did danny have Cerebral Palsy, he was a gay man. As a homosexual male working with ten mentally ill boyswho were often making false accusations against staff. After 8 months in the small group home setting, he thought it wise to find work elsewhere before the boys added him to the list of falsely accused staff. He left the Children's Home to become University of Arizona Medical Center's Manager of Social Work, where he supervised 23 Social Workers. Life was once again, good - for the time being. While at UAMC danny received life changing news. He was diagnosed with HIV. Yes, the man who was constantly told he was too crippled to do anything, and had exceeded all expectations, now faced life not knowing what to expect from one day to the next. If having Cerebral Palsy hadn't slowed him down, HIV just might. And it did. He left UAMC in 1991 to take care of himself and his partner, who had been diagnosed with full blown AIDS. Sadly, his partner passed away a short time thereafter. danny, understandably, was distraught. He had left his job to care for his partner, and now his partner was gone, and he himself was not in the best of health. He battled pneumonia at least once a year (which is the number one killer of those with AIDS), and sometimes just walking across the room was a struggle. danny does not flinch as he shares this information with me, and when I ask him if it's okay to include this in my write up of him, he obliges. He is not ashamed of being gay, in the same way that he is not ashamed of having Cerebral Palsy. It is a part of who he is, and what he's faced as a person with a disability he's also faced as a gay man – rejection. But it is that rejection that has led him to where he is now. A namesake.
And So It Was Written
Through all of danny's health issues he never wearied in his work with the Cerebral Palsy Foundation of Southern Arizona. He showed up to meetings when he could, helped with fundraisers, and even served as board president a few times. He was instrumental in helping the agency obtain a half-million dollar grant from Angel Charities, giving the final speech on hope and perseverance which left the entire room in tears. danny had proven that neither a disability, or potentially life ending disease could stop you if you believed in yourself, and pushed past the limitations. The CEO of the Cerebral Palsy Association, Ema Kammeyer, saw this and with the agency serving more than just those with Cerebral Palsy, she decided it was time for a name change. Ema wanted to honor the man who turned all of the "you can't" 's into his "I already did" 's. She asked danny if he would allow the agency to change its name to "The Blake Foundation." Honored, but not wanting to draw negative attention to the agency for his lifestyle choice, danny said he would oblige if he could be open and honest with the board about being a gay man living with AIDS. He did not want any secrets about who he was, or any confusion that would lead to negative light for the agency. Ema took his request to the Board of Directors and two days later danny received a dozen yellow roses with a card attached that read "Love, The Blake Foundation".
Just like that, The Blake Foundation was born.
Remember Thy Name
The name change took place in 1993, with the "Easter Seals" portion being added in 2006. Though his health has waned a bit, danny is still active on the company's board. He attends meetings when he can, fundraisers, and speaks at engagements. He has served as Board President for a total of eight years, and continues to serve as inspiration for the current board. In his life he is most proud of his triumph over the "you can't" 's in his life: being president of his entire high school, going to college AND getting his Master's Degree, teaching Berkeley University's first ever Human Sexuality class for adults living with a disability, and working with clients. danny has gotten the most joy in seeing the difference he has made in the lives of others. That is where his heart lies. In the future, he would like to see more funding for what he refers to as the "forgotten population" - adults living with special needs. Budget is always a constraint but he knows that services and equipment are crucial for independent living. He points out that it is only because agencies like Easterseals Blake Foundation exists that adults with special needs are visible in the community, and cared for as they are.
Upon wrapping up the interview I had one last question for him. I asked him "danny, at the end of the day, when it's all said and done, what do you want your legacy to be?" He told me he'd been pondering that question and his response made me take pause. He looked me in the eye and quietly said "That I was true to myself, and true to those I served". I nodded my affirmation and quietly blinked back a tear or two. As a mom who has watched her child thrive and surpass all the "you cant's" thrown in her path, I can honestly say that he has been more than true. He has been hope, he has been inspirational, and he has been strength. His name will live on letterhead and on buildings, but his most important legacy is in the children served by Easterseals Blake Foundation who take their first steps without their walker, who integrate into general education classes, and who go on to be productive adults in the community. His legacy will live on in the work of the agency that chose to honor the man who said "I already did", when everyone else said "you can't".
This article's author, Adiba Nelson, is parent to 5-year old Emory, who attended our Children's Achievement Center, and also has a diagnosis of Cerebral Palsy. With the assistance of teachers and friends, Emory is working hard to continue danny's legacy!