Behavioral Health Services
Easter Seals Blake Foundation recognized as a Center of Excellence!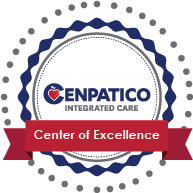 Cenpatico Integrated Care, the Regional Behavioral Health Authority for Southern Arizona, recognized Easterseals Blake Foundation as one of only three Centers of Excellence in Southern Arizona in 2017!
This honor recognizes organizations that provide the highest levels of service, quality, and leadership.
Key Standards of a Center of Excellence include:
1. Easy Access
2. World Class Customer Service Built on a Culture of Engagement and Wellness
3. Comprehensive Care
4. Excellent Outcomes
5. Excellent Value
A Behavioral Health Center of Excellence is known by the entire community as a great place to get care and a great place to work.
A BHCOE offers easy access to affordable, comprehensive care for persons experiencing behavioral health issues.
Clients experience respectful, self-directed, team-based, and holistic care that addresses their problems and achieves outcomes important to them. Excellence is created by each staff member who has a heartfelt connection to their community and the people they serve, based on a deep understanding of trauma, best clinical practices, and an unshakable commitment to resiliency and recovery.
Meeting this definition is a high bar. It is not something that comes from passing a written test or a surveyor's review. It begins with building a great team that is able to achieve high marks on a set of core elements, which leads to recognition by the community as a great place to get care and a great place to work.
We are very proud of our exceptional Behavioral Health Services staff for receiving the Center of Excellence honor and value all their hard work, dedication and the heartfelt connection they have made to our community!
Health, Hope & Answers.
Changing Lives Every Day.
Call us at (520) 449-8555 for more info.

Behavioral Health Services include:
Assessments
Therapy, family support and in-home interventions
Caring professionals who provide customized care to children and families
Comprehensive psychiatric and medication services
Children and Family Services Early Childhood Behavioral Health:
Easter Seals Blake Foundation Children and Family Services provides a continuum of early childhood behavioral health services for children birth to age eight and their families. This service is available in all 15 Arizona counties. Children and families are provided with an array of intake, assessment, parent-child therapeutic intervention, care coordination, advocacy, parenting education, and children's groups. ESBF is the only Arizona provider outside of Maricopa County whose staff are trained to utilize the evidence-based Child-Parent Psychotherapy model. We also offer evidence-based Incredible Years children's and parenting groups. Easter Seals Blake Foundation's trauma-focused early childhood behavioral health work resulted in the agency earning the Child Abuse Prevention award, at the 2013 March for Children, recognizing our ongoing work supporting abused and neglected children in Arizona. We are considered by many to be the premier early childhood behavioral health agency in our community.
SAGE Behavioral Health Services
SAGE's behavioral health programs build social and emotional skills, develop positive character traits, and foster collaborative teamwork. These lessons are adapted to suit the needs of any age group and built on as youth age through the program. We believe that through the development of respectful relationships, youth will find balance and place within their community. We aim to transform 'youth at-risk' into 'youth of potential' by helping them recognize their own strengths as assets on the path to healthy development.
SAGE offers in-home and community-based supports including individual, group, and family therapy in a variety of modalities to meet the therapeutic and developmental needs of participants.
Equine-Assisted Therapy incorporates horses into individualized plans to achieve treatment goals. Activities enhance cooperation, decision-making skills, and encourage teamwork. Equine-assisted learning improves openness, communication and trust; increases awareness of personal and group impact and influence, builds the skills needed to manage difficult conversations.
Play therapy allows children to express experiences and feelings through a natural, self-guided, self-healing process. Play therapy is used to give participants a way of non-verbally communicating troubles. Play therapy teaches communication, self-expression, behavior modification, and problem solving.
Expressive arts therapy uses creative arts (visual arts, movement, drama, music, and writing) as a to guide participants in healing through the use of imagination and the various forms of creative expression.
SAGE's research-based eco-therapy curriculum meets participants at their individual stages of development, supporting social, emotional, and cognitive growth.
Adolescent youth groups are gendered holistic programs that examine aspects of wellness and self-development through equine, environmental, and yoga programs.
Behavioral Health program funding is provided by Cenpatico Integrated Care and other State of Arizona insurance carriers