Adult Supported Employment Programs
We envision an integrated community where all members are valued for their unique perspectives, experiences, and talents. Our supported employment programs for adults with disabilities empowers independence, through person-centered services that focus on an individual's strengths and assets. Our goal is to help underserved individuals become full and active participants our community. Individuals receiving supported employment services work alongside job-coaches who provide on-the- job supports.
The SAGE Employment & Community Services division of Easter Seals Blake Foundation is based in Tucson, but offers programs throughout Southern Arizona. SAGE works in Graham & Greenlee counties to establish business ventures that perform the dual purposes of creating employment opportunities and fulfilling community need.
A few of supported employment programs are listed below. Services aren't limited to these options, so please contact us for more information.
Pima County: 520.622.3933;
Graham and Greenlee: 928.348.3344
Tucson - SAGE Ceramics
SAGE Ceramics, operated by SAGE Employment & Community Services, provides employment opportunities for individuals with developmental disabilities. SAGE Ceramics is a small business that supports employees who design and manufacture a variety of handcrafted ceramics. SAGE introduced its first design in 1979, Twice Fired Chili Peppers. Crafted from molds of real chili peppers, they became an instant success, and were the launchpad for several other southwest style items. SAGE Ceramics' unique products are found in gift shops, boutiques, major department stores, and online.
More information at sageceramicgifts.com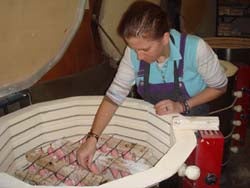 Tucson - Campo Urbano
Avant-garde employment programs at our ranch continue to innovate sustainable gardening and animal husbandry in the desert. Supported employees at Campo Urbano are responsible for the care of domestic animals, gardening, water-harvesting systems up-keep, and community outreach. Through Campo Urbano's supported employment program, ranch hands receive training in green vocations, construction, landscaping, and low-impact gardening. Ranch hands apply these skills to situations in their everyday activities, such as communication, socialization, and independence.
More information at www.campourbano.org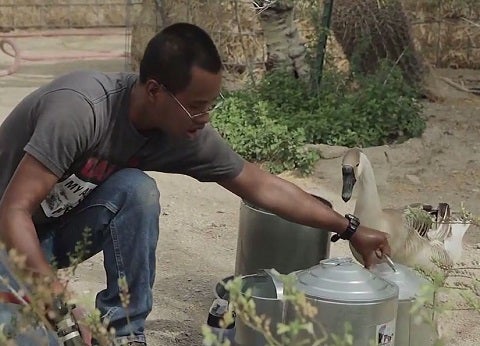 Safford - Main Street Cafe
Safford's Main St. Café is the gathering place for community members. Main Street Café's aim is to create employment opportunities for individuals with disabilities and to provide a gathering place for the Safford community. We have won several awards including: Best Downtown Business and Best Downtown Dish.
More information at www.sagemainstreetcafe.com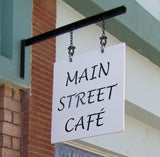 Morenci - McMoRan Industries Recreation Center
Our long-time partner, Freeport McMoRan contracted with SAGE Community Services to provide supported employment janitorial jobs at McMoRan Industries Recreation Center. McMoRan is funding 80 hours per week of supported employees' wages and associated costs. The Department of Developmental Disabilities is funding a job coach for the program.
McMoRan Copper Recycling
In collaboration with Freeport-McMoRan Copper Mine, SAGE Employment & Community Services supports employees who recycle discarded metals from wire, providing work opportunities and keeping usable materials from the dump.
Project SEARCH
Project SEARCH is a business-led collaboration that enables young adults with disabilities to gain and maintain employment through training and career exploration which is done in collaboration with a host business. Easter Seals Blake Foundation is the provider agency for the Young Adult Program which is housed at The University of Arizona Medical Center and partners.