Community Living - Developmental Disability Programs
An Ode to Joy for Sherry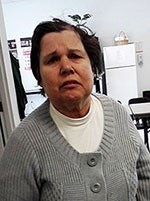 There is a seed of joy within each of us that, when properly watered and cared for, will bloom into the most beautiful of flowers.

When I first started working as a direct support professional three and a half years ago, Sherry, a program participant at Easter Seals NJ's Community Support Services (CSS) Adult Day Program in Bergen County, appeared to be... read more
Andrew's Passion for Fitness and Helping Others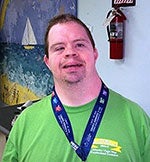 Andrew is an intelligent, friendly and caring man that also happens to have Down Syndrome. He doesn't allow his diagnosis to define him, preferring instead to be known for being a great friend, son, teammate, and all-around great person.
He is passionate about two things – physical fitness and helping others... read more
Kenny Utilizes Technology to Improve Quality of Life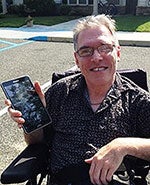 Recently, Kenny expressed interest in learning how to make use of technology to help him live more independently. But, because of his cerebral palsy, he was concerned about his ability to use tools that required manual dexterity.
The staff at the Easter Seals day program in Lakewood for adults with disabilities spent several weeks working with Kenny to learn how to use a tablet and discover all of the... read more
Marion Receives NJACP Community Star Award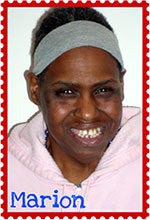 Marion, one of four siblings raised solely by their mother, attended special education classes until the age of sixteen when, due to her mother's illness, she was enrolled in day programs and moved to a boarding home.

For more than 20 years, Marion resided at the boarding home where she received little support or guidance. Other than medication administering once daily, she was essentially left to fend for herself without much privacy or... read more
Program Participants Train for Emergency Preparedness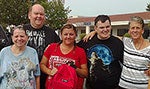 Recently, several individuals who attend Easter Seals NJ's adult day program for people with disabilities in Rio Grande participated in an Emergency Preparedness Training presented by the New Jersey Division of Disability Services at the Cape May County Public Safety Training Center.

Each participant received a Disaster Kit which included... read more
Ruben Ventures Out into the Community
When Ruben arrived at the Easter Seals adult day program in Mercer in August 2012, the first few days were challenging for him and the staff alike.

Diagnosed with Autism, Ruben wore an electronic bracelet to track his movements should he try to wander off or separate from his group. Knowing that it would benefit him immensely to experience life in the community, the staff... read more
Matthew Wins 2014 Thanksgiving Card Art Contest!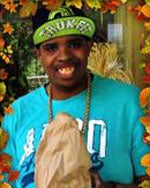 Matthew, the winner of Easter Seals NJ's 2014 Thanksgiving Card Art Contest, is a young man living with multiple intellectual disabilities, including Autism.

When he first began attending one of Easter Seals NJ's adult day programs four years ago, he had difficulty socializing and being out in the community, preferring instead to remain at the center. Over time, the staff worked with... read more