Camping & Recreation
View Our Online Virtual Tour and Explore Camp Merry Heart!
---
Camp Merry Heart is on Facebook!
Stay in touch with us all year round. Meet our staff, be the first to find out about session dates, share pictures and great memories, and more! Click the Facebook icon or click here to connect with us today.
---
About Our Camping & Recreation Programs
At Easterseals, opportunities for recreation and social interaction are more than just "fun"... the many benefits they provide are a necessary part of maintaining a healthy state of mind and lifestyle for everyone.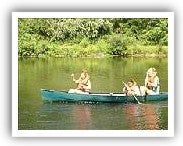 The importance of recreational activities has long since been recognized and implemented by Easterseals as an integral part of ALL of the programs and services provided to people of all ages with all disabilities.
Meaningful recreation:
promotes relationship building
teaches acceptance through group participation
builds confidence and self esteem by conquering fears
provides exposure to new experiences and places
provides opportunities for self-determination
breaks down barriers of unfamiliarity and stigma
reduces disability-related health complications
All of these things are a crucial part of achieving the healthiest and best quality of life with the same equality, dignity and independence we all strive for.
---
Contact
Easterseals New Jersey
Camping and Recreation
21 O'Brien Rd, Hackettstown, NJ 07840
Phone: 908-852-3896 | Fax: 908-852-9263
recreation@nj.easterseals.com
Last updated: April 28, 2022