Success through Early Intervention
Jayne was born with congenital hydrocephalus. Her parents brought her to see numerous doctors, neurosurgeons, neurologists, ophthalmologists, and pediatricians as they searched for answers and support. It was very lonely and difficult to find anyone to talk with about Jayne's unique condition or care. At three months old, Jayne had neurosurgery, placing a permanent ventricular shunt in her brain's right side to drain the cerebrospinal fluid, otherwise known as CSF. After Jayne was five months old and recovered from surgery, she started occupational and physical therapy with home early intervention visits. While Jayne's family appreciated the help, it took some time to realize Jayne's developmental milestones would be much harder for her to reach.
Finding Hope
Later that year, a family member recommended Jayne's family reach out to Easterseals DuPage & Fox Valley. When Jayne's family started her evaluation, they immediately felt less alone with helpful staff and families to talk to in similar situations. Jayne's initial evaluation led to long-term treatment with Occupational Therapist Linda and Physical Therapist Celine, who she continues to see. Over those 15 years, Jayne progressed immensely, and both Jayne and her family formed a powerful and unique bond with her therapists that remains to this day.
The Power of Community
Beyond the progress Jayne made, her family recognized the importance of not feeling alone. Jayne's family found much-needed support from family groups and other parent resources offered by Easterseals DuPage & Fox Valley.
"It's here at Easterseals DuPage & Fox Valley that we feel we are not alone. They offer parent groups and parent night outs so parents can get together with others who go through similar situations. That's one of the perks of your child being a client at Easterseals DuPage & Fox Valley. The sense of community and knowledge that people around you understand what you are going through. This is vital in the therapy process and staying hopeful."
A Bright Future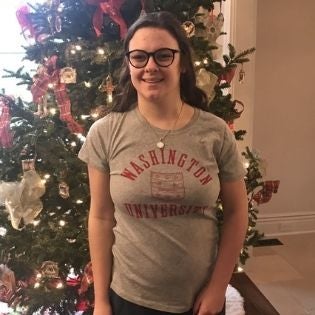 Jayne will now be graduating with honors from the University of Chicago Laboratory High School in the spring of 2021, where she also swam on the swim team. In the fall, Jayne will be attending the highly selective school, Washington University in St. Louis, with a pre-med major concentrating in neuroscience, where she hopes to swim on their swim team. From her challenging youth years and being diagnosed with congenital hydrocephalus, cerebral palsy, and vision impairment, Jayne and her family have made incredible progress and proved that dedication and the right support from skilled therapists can have a tremendous long-term impact.
"If you are a parent of a child with disabilities, I would strongly recommend Easterseals. They offer more than 30 different types of unique therapy services, cutting-edge diagnostic testing, and friendly counseling services to suit the needs of each and every child." - Jayne's mom, Pam