Here For You
We understand that a child's success looks different for each family. We will work together to find answers, set goals and celebrate progress.
Watch Video
Our Vision For Your Family
Join us and help build inclusive communities. We share our knowledge and advocacy so every child has access to services and opportunities for healthy development.
We are here to ensure that you and your child are empowered.
Show Me Information For
Patient Dashboard
Click the patient dashboard button below to check in for appointments (on day of), update information, access your medical reports or pay your bill.
For questions, please send an email to portalhelp@eastersealsdfvr.org and include the client name and birthdate.
Patient Dashboard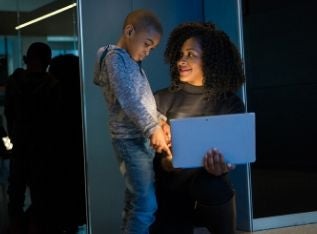 What's New At
Easterseals DuPage & Fox Valley
Supporting a Family's Autism Journey
Zack is a four-year-old boy who loves lighting up a room with his smile and contagious laugh. Zack was also born with a rare arteriovenous malformation in his brain which caused developmental delays and was later diagnosed with autism at Easterseals Diagnostic Clinic. Zack's autism diagnosis provided clarity and helped ensure he received the resources and support he needed to flourish. Since Zack started his journey at Easterseals Erin his mom has noticed real progress. "Zack has made big growth over the last one-and-a-half years! His fine motor skills along with his gross motor skills have improved. He now climbs all over the place and gets into EVERYTHING when before, he was hesitant to try new things. He is doing much better with making eye contact and coming to adults for help."
Recent Posts From
Easterseals DuPage & Fox Valley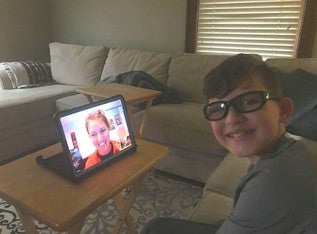 Tele-therapy Services
Tele-therapy provides access to our therapy team in a safe and convenient method. We understand the immense stress of balancing your child's needs with the demands of work and school while also keeping your family healthy. Tele-therapy allows flexibility to meet during busy schedules and is an excellent option for families in more remote areas. Our experience and research show that client, family and therapist satisfaction and outcomes are similar to those of traditional face-to-face sessions.
Read More
Counseling & Support
Our team of compassionate mental health professionals offer extensive resources and provide a safe space for each family to receive support along their unique journey. This diverse network of Licensed Social Workers, Licensed Clinical Social Workers, Psychologists and a Care Coordinator are available to answer questions, provide counseling support and strengthen relationships within your family.
Read More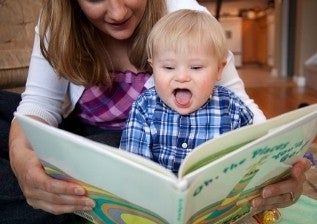 Speech-Language Therapy & Assistive Technology
Speech-Language Therapy strengthens children's communication and feeding skills so they can participate fully in daily activities and achieve success. We address language comprehension, sound production, fluency, feeding skills and assistive technology assessments. Our comprehensive evaluation address high and low tech solutions, while looking at the whole child and their family's needs to help each child reach their milestones.
Read More
Every year, thousands of children with disabilities and their families walk through our doors with a dream; a dream that their son may walk, a dream that their daughter will be able to talk, a dream that their baby will live her life as independently as possible. When you give to Easterseals you are not just giving a dollar amount, you are helping a child's dream come true.