Explore Our Programs
Easterseals DuPage & Fox Valley provides exceptional therapy services so that children living with autism, developmental delays or other disabilities are empowered.
Learn More
Our Mission and Vision Statements
Our mission is to ensure that children with disabilities and their families are empowered.

We believe every child deserves to thrive in an inclusive community.
Show Me Information For
Patient Dashboard
Click the patient dashboard button below to check in for appointments (on day of), update information, access your medical reports or pay your bill.
For questions, please send an email to portalhelp@eastersealsdfvr.org and include the client name and birthdate.
Patient Dashboard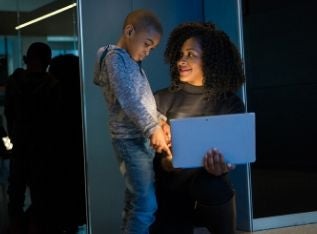 What's New At
Easterseals DuPage & Fox Valley
Help Us Bring Stability to Families In 2022
It has been a challenging start of the year due to COVID-19 surges. It leaves many families juggling a return to remote work, classroom closures and quarantines. For families of children with developmental delays and disabilities, these disruptions are more difficult to manage.
More children need our services than ever before. 54% of children have missed a milestone during the pandemic and studies point to a developmental lag in babies born in early 2020. We offer free screenings to identify delays as early as possible and critical services in a child's most formative years. Steadfast health and safety measures have proven effective in our centers, and tele-therapy continues to reach families at home. Learn more on how you can be a steady support for thousands of families.
Recent Posts From
Easterseals DuPage & Fox Valley
2021 Holiday Gift Guide
December 12, 2021
By: Citlaly Gonzalez Psy.D Clinical Psychologist Winter brings chillier temperatures, twinkling ligh…
Every year, thousands of children with disabilities and their families walk through our doors with a dream; a dream that their son may walk, a dream that their daughter will be able to talk, a dream that their baby will live her life as independently as possible. When you give to Easterseals you are not just giving a dollar amount, you are helping a child's dream come true.