Emily, Accomplishing the Impossible!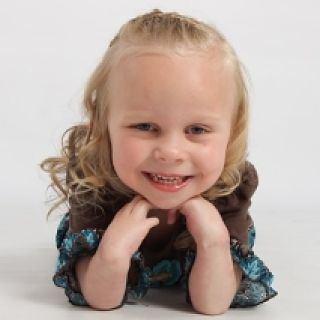 Emily has endured 20 surgeries, 100 platelet infusions, 29 hospital stays, eight sets of leg and arm braces and more casts than she can count in her six short years of life. She is a spirited little girl who has accomplished things that doctors said were impossible. The EBF team patiently worked with Emily to ensure she met her developmental milestones as a young child.
The therapist didn't come to our house with a bag full of toys and therapy balls. We worked in our home during our daily routine. We used laundry day as a time to push a laundry basket to the living room to strengthen her arms and legs, she helped me put the clothes in the dryer from the washer to practice standing with the support of the basket. Emily loved laundry day and had no idea she was doing her therapy homework! As a family together we helped our daughter grow and accomplish difficult tasks in our normal daily routine!
EBF staff also taught the family how to advocate for their daughter. Because of YOU Emily goes to school, has friends, does chores and is accepted as the perfect little girl she is.
- Brooke, Emily's mom
Easterseals Blake Children & Family provides multiple programs to support children and their families.