Growing Home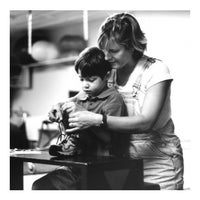 Easter Seals DuPage & Fox Valley has been a deep-rooted part of the community for the past 73 years.
Our current home opened in 1999 on a quiet street in residential Villa Park. In order to make this state-of-the-art facility a reality, we partnered with a colleague organization who owns half of the building. We have continued to grow, and today we utilize nearly all of the available space, while still only owning half. For years we have imagined changing this business arrangement and now we have the opportunity.
---
The Growing Home Campaign will enable Easter Seals DuPage & Fox Valley to purchase the therapy wing of our Villa Park building, securing our future. This will help ensure the life-changing services that thousands depend on, are available to any infant, child and family in need, for many years to come.
You Can Help
There are several ways to support the Growing Home Campaign.
Decorate a Tile
Hundreds of hand decorated tiles will come together to create a mosaic house that will be a permanent installation in the therapy wing of our Villa Park home. Submit an original drawing, painting or saying and we'll create a tile that will become part of the Growing Home house.
Plant a Tree
Planting a Growing Home tree is a great way to celebrate or honor a child or accomplishment, or memorialize a loved one. Your tree will be planted on our grounds and a plaque of honor will be placed at it's base.
Order Forms are coming soon!
Make a Gift
Gifts of any amount can be made in honor of children, loved ones, therapists or corporations. An outright gift or multi-year pledge of any size can be paid through check, credit card, securities or other properties.
Click here to make a donation today.
Naming Opportunities
The development team will gladly discuss specific naming opportunities and other commemorative gifts that best meet your needs.
To learn more, contact us at info@eastersealsdfvr.org | 630.620.4433