Respite Services Profile
Caregivers, Take Five
Easterseals respite programs make a double difference, serving both people with disabilities and those who care for them on a day-to-day basis. Respite programs give participants an opportunity to engage in social and recreational activities while their families get a much-needed break from the demands of caregiving.
Each year, more than 500 children and adults visit Wisconsin Elks/Easterseals Wisconsin Respite Camp, located on 400 wooded acres in the Wisconsin Dells, where they enjoy fishing, canoeing, archery, arts and crafts, games, hikes, swimming, a ropes challenge course, and community excursions. Participants ages 3 and up can camp year-round with 10 week-long sessions offered in the summer and weekend sessions held the rest of the year.
Round-the-clock nursing support and one-on-one care makes it possible for campers with severe disabilities, many who have been turned down by other programs, to participate. "We offer children and adults who require constant care a safe place to enjoy nature and outdoor recreation," says Kelly Housman, director of the Easterseals Wisconsin Respite Camp.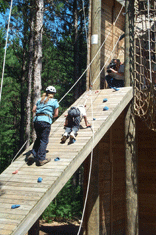 Without a facility to base its services, Easterseals Arizona provides in-home respite care and organizes excursions to sites within the community, such as local YMCAs.
In his office, Mike Tufte, director of adaptive respite and recreation, keeps a file of heartfelt letters from parents who are grateful for the program. "The kids get a lot out of it, and the parents have free time to reconnect with other family members and friends, run errands, catch up on personal time, and just relax," he says.
Housman says many parents have told her that without the much-needed respite break, they would not be able to care for their loved one at home without additional support. "I feel privileged to help these families," she says. "If we can help families stay together and campers have a good time, I feel we're making a huge difference."