Giving Jessica and her family a break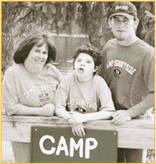 Easterseals provides a place where Jessica can be a kid and make memories that will last her a lifetime.
Jessica, 17
Easter Seals Iowa, Camp Sunnyside/Weekend Respite Program
Two Fridays a month, Jessica sings "happy, happy, happy" continuously during the 40-minute drive from her home to Easter Seals Iowa's Camp Sunnyside. And then on the return home, "she cries for 40 minutes straight" says her mother, Sheryl.
Jessica, who is deaf and has other disabilities, attends the camp's weekend respite program where she enjoys swimming, painting and dancing. Meanwhile, her father, Rio, and her brother, Mitch, get a much-needed break from the daily demands of caregiving. Jessica was born with CHARGE syndrome, a condition affecting approximately one in 10,000–12,000 births. Common CHARGE characteristics include hearing and vision impairment and heart defects.
Jessica spent nine months of her first year fighting for her life in a hospital. By age 3, her health had begun to stabilize, but the stress of seeing her through 10 surgical procedures and several illnesses had taken a toll on Jessica's loved ones. "We were a family falling apart," Sheryl says. As a couple, Sheryl and Rio needed to get reacquainted. Sheryl also longed for more time alone with Mitch, who was only 10 months old when his sister was born. But caregiving options were limited. Relatives, Sheryl says, "were as burnt out as we were." And with Jessica requiring special care, "I couldn't just hire a teen," she adds.
For years the family coped while struggling to secure respite care from various agencies. One by one, caregivers visited their home and said Jessica was too much of a challenge. When an attorney suggested looking into Easterseals, Sheryl decided to try one more time.
To her surprise, Easterseals accepted Jessica into the respite program without hesitation. When Sheryl picked her up after her first weekend away, "They couldn't wait to have her back. I felt like I had been taken to another planet."
Today Jessica attends respite weekends twice a month. This summer she also attended three week-long residential camp sessions. "I love working with Jessica," says Angie Caldwell, a counselor for the weekend respite program, who adds that Jessica is becoming more outgoing and willing to assume responsibilities. "She'll often help push a fellow camper in a wheelchair."
Sheryl, too, has seen a change in her daughter. "She's gained self-confidence, become more mature and independent." The regular breaks benefit the entire family. Sheryl, Rio and Mitch are able to do things they can't do when Jessica is home, and everyone is recharged when it's time to pick her up from Easterseals. "I hate to think where we'd be today without Easterseals' help," Sheryl says. "We would have survived, but the rocky path would have been more difficult."