Training and Development
Adrien Lands Her Dream Job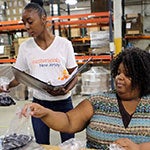 Adrien came to Easterseals New Jersey's Millville Program Center seeking help to obtain employment out in the community. She learned janitorial skills and advanced quickly through the program. Eventually, McDonald's saw what a hard worker she was and hired her. However, this was only the first step towards her final goal. After working with Easterseals, she discovered her true calling... read more
Overcoming Nerves, Seizing Opportunity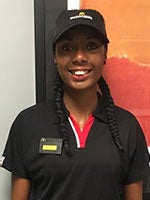 Adrien has always been interested in seeking community employment but just wasn't sure how to start the process. Adrien joined the job readiness class at ESNJ where she learned how to answer interview questions, how to dress for an interview, what skills employers are looking for, how & where to search for jobs, and the follow-up procedures after the interview takes place. Adrien utilized the janitorial skills she had learned at Easterseals to land an interview for a cleaning position at McDonald's. When the day came for the interview... read more
Expanding Employment Opportunities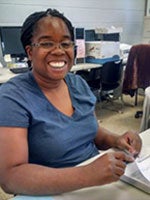 For the first time in Easterseals history, Employment Services is now collaborating with Community Living Services (CLS) to hire and provide jobs for existing consumers! These select individuals will be working at our Raritan Valley Employment Center. This moves us one step closer to our organizational goal of greater cross-collaboration between internal programs and we couldn't be more excited!
After Employment Services secured a large contract working with NJ Transit... read more
One Step Closer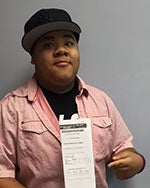 Participant, Angel, started at Easterseals in Millville about a year ago. One of the first things he spoke to his service specialist (Pam Albano-Capano) about was obtaining his learner's permit. Pam suggested that he take the Driver's Education course offered at the Millville facility. Angel was very excited about attending this class which he was referred to immediately.
Service Specialist (Heather Tuck) was the instructor for this class and was eager to... read more
Nicole Triumphs in Her Search to Find Employment with the Help of Easter Seals NJ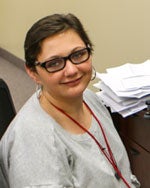 At age 11, Nicole K. was a fun-loving avid figure-skater that enjoyed sports and outdoor activities.
Until one morning, she woke up completely paralyzed from the waist down. She was later diagnosed by attending doctors with a virus called Transverse Myelitis that causes inflammation of the spine. The inflammation was so severe, that it damaged nerves in her spine causing her to become paralyzed from the waist down. Doctors were positive that Nicole would never... read more
Adrian Returns to Work in the Community
Adrian is a 39 year old gentleman with a disability who came to Easter Seals NJ's Employment Services in 2012.
"I had the pleasure of working closely with him and his family who remain supportive and positive," says Joanna, his employment coach. "They said Adrian was a very hard worker."
Over time, it became apparent to the Easter Seals employment staff how dedicated and... read more
David Obtains His First Job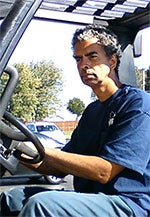 Diagnosed with agoraphobia, David had never held a job.
Easter Seals employment service specialists helped him develop social and work skills and overcome his fears of public settings. He quickly mastered his in-house assembly and packaging responsibilities and was encouraged to learn warehouse operations. He became proficient at taking inventory, loading and unloading trucks, and soon became a... read more
Future Leaders in Washington, D.C.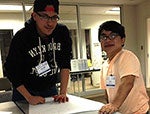 Over a cold January weekend in Washington, D.C., Miguel took the first steps towards becoming a youth leader within his community.
Miguel, who completed Easter Seals New Jersey's Middlesex County High School-High Tech program upon graduating high school, had never been to... read more
Hector Overcomes Obstacles to Employment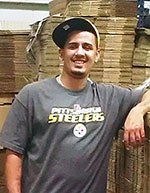 As a young teenager, Hector found himself in the throes of substance abuse as a result of the frustration the struggles and challenges of living with multiple disabilities presented.
Due to his inability to cope with his disabilities and the lack of proper support systems, his addiction continued for more than two decades keeping him from achieving milestones like finishing... read more
Jessica Goes from Almost Homeless to Landing Dream Job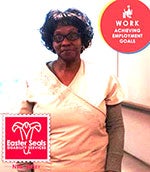 The last week of every September is National Employ Older Workers Week.
Jessica is the perfect example of why employers rate older workers high on characteristics such as judgment, commitment to quality, attendance, punctuality...and, perseverance!
As a result of difficulty finding... read more
Matthew Achieves New Levels of Self-Sufficiency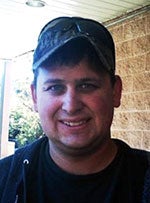 Matthew N is a sports fan. He loves the Mets and the Giants, he loves the outdoors, he can't wait until fishing season so he can go out with his family and try to catch "the one that got away" the last time. Matthew is also a member of the Knights of Columbus where he serves as a Warden, checking IDs at various events and such.
As you can see, Matthew has a very full life for a 25 year old; one who also happens to have... read more
Merenda's Life Gets Back on Track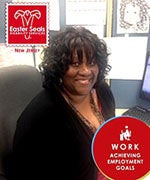 When the business Merenda owned and operated for 8 years closed, she was unable to find employment for two years and was pretty discouraged when she came to Easter Seals NJ's Senior Community Support Employment Services (SCSEP) in 2010.
The SCSEP program provides training and employment assistance to... read more
Olga's Transition from Participant to Valued Staff Member!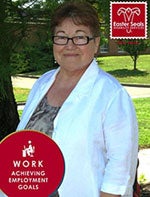 After being employed for 29 years, Olga was placed on disability as a result of the physical demands of her job, which required standing for long periods of time. This resulted in a significant loss of wages and she found herself no longer able to meet her living expenses.
She learned about Easter Seals Senior Community Service Employment Program (SCSEP), which provides... read more
Participants Contribute to Successful Earth Day at SCMUA
Another Earth Day may have come and gone, but for one group of dedicated program participants at Easter Seals NJ's Employment Site at Franklin Highlands, every day is Earth Day. Gerard, John, Kevin, Ronnie, Ken, Paul, Michael, Tim and Robert report to work – some for as long as... read more
Students Graduate School-To-Work Transition Program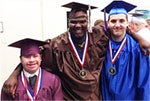 Recently, Easter Seals NJ's Employment Services in Millville had several students graduate from the School-to-Work Transition Program (STW).
Jairo, Mark and Wayne participated in the STW program at Easter Seals through their... read more
Updated 10/24/16