Adult Day Training Programs & Community Inclusion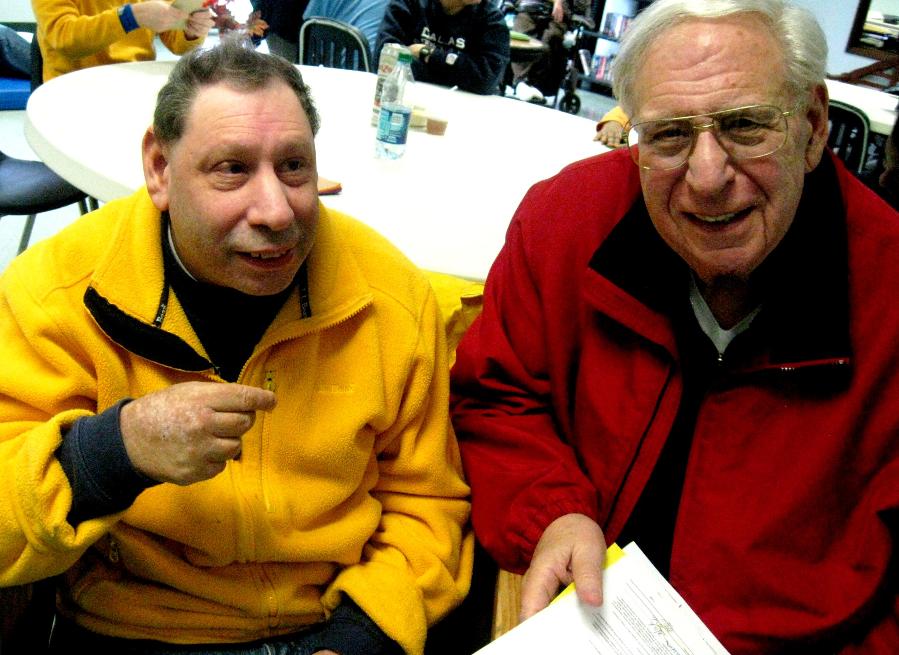 "Our son used to just sit on the sidelines of activities, but now he participates. He is talking more because the Easterseals staff has taken the time to understand his style of communication. Easterseals has lifted up my life and has been great for our family."
---
Providing Real Opportunities for Independence
At Easterseals New Jersey, our services for adults with developmental and physical disabilities are designed to provide options that maximize independence for the entire family. Our services are based on the participant's interests and desires as well as the needs of the family/caregiver.
Virtual Programming Info

Due to the second rise in COVID-19 cases across the state, the Division of Developmental Disabilities (DDD) announced Thursday January 7th that it has decided to extend its mandate that ALL congregate day habilitation programs stop in-person programming from November 26, 2020, until FURTHER NOTICE. We do not have an established date for re-opening currently. We will notify you when Easterseals is allowed to resume in-person Day Habilitation services.
While we cannot provide services in-person, Easterseals will continue to provide day habilitation services through Zoom. We have created three cohorts for providing virtual services:
Cohort 1: Bergen, Edison, and Sayreville
Cohort 2: Oakhurst, Lakewood, and Lacey
Cohort 3: Mercer, Northfield, and Rio
Consumers that have enjoyed participating in Easterseals' virtual services will continue to do so with little or no interruptions, and we welcome all consumers to join us!
To enroll please call:
Bergen, Edison, and Sayreville
Phone: 732- 316-0275
Oakhurst, Lakewood, and Lacey
Phone: 732- 660-0955
Mercer, Northfield, Rio
Phone: 732- 316-0275
Zoom Sessions occur: Monday – Friday 9 AM – 2:30 PM
Please send any questions to dayhab@nj.easterseals.com.
Sample schedule:
Community Inclusion
As an approved provider for DDD services, meaningful community integration for people of all ability levels is at the core of our mission. We believe everyone deserves an opportunity to engage fully in their community as a contributing member of their locality. This means we prioritize community-based socialization, learning, volunteerism, and recreation in small group sizes (limited 6) and in the safest way possible. We focus on the possibilities of what can be done, not what they can't. Join us today.
For Our Participants
Using a team approach to promote success, each individual has a service plan that outlines the person's goals and objectives on which they work with staff daily. The individual's quality of life is enhanced through socialization with their peers and staff, the opportunity to develop friendships and take part in recreational activities, learn new skills, and participate in a variety of community activities.
Services are customized based on the participant's:
Personal interests and desires
Level of ability
Goals for growth and independence
Level of personal care needs
Services Focus on Encouraging, Supporting and Helping Participants to:
Obtain or enhance social and communication skills
Maximize and maintain functional life skills and self-care
Access opportunities for meaningful recreation
Engage in health and wellness activities
Engage in a variety of educational, volunteer, and employment opportunities
Learn to self-advocate
Benefits to the Family and/or Caregivers:
Peace of mind knowing your loved one is safe and cared-for by well-trained, qualified and screened staff
Transportation is provided via Easterseals' fleet of well-maintained vehicles, many of which are wheelchair accessible, and operated by screened drivers that are certified in CPR/First Aid
Several hours of respite enabling caregivers to work, run errands, or tend to other personal matters
Available in the following counties:
Bergen/Passaic, Middlesex, Mercer, Monmouth, Ocean, Atlantic, and Cape May
Eligibility:
Adults with one or more documented disabilities with varying degrees of:
Developmental delays
Intellectual disabilities
Autism
Cognitive, neurological, and mental disorders
Visual and/or hearing impairments
Traumatic brain injury
Congenital anomalies
Paralysis and physical disabilities
Other medical disorders
Adult Training Services including Medical and Special Needs, Behavioral Services

State Funded, Self-Directed Services, and Private Pay Available


For more information, contact Easterseals New Jersey at 732/257-6662 or email us
Last updated: January 8, 2021