Easterseals NJ Election Information Center
Your Resource for All Things Voting!
The 2021 General Election in New Jersey will be conducted in person, though voting by mail remains an option and drop boxes are available as well. Election Day is Tuesday, November 2; and the deadline to register to vote is Tuesday, October 12th! Please use this election guide to find the resources you need to vote.
We want to make sure you are prepared to cast your ballot, so we will be compiling important voting information right here on this page.
Track Your Vote by Mail Ballot
Find Your In-Person Polling Place
Resources for Voters with Disabilities
Voting can be particularly challenging for people with disabilities, luckily there are resources available to ensure that access to the ballot box, or in this election, absentee ballots are protected.
If you, or someone in your care, is unable to complete a vote by mail ballot due to a disability, you may vote in person. As the 2021 election is being conducted in-person, your polling place should have an accessible voting machine available.
You can also request a large-print vote by mail ballot from your County Clerk's office. If you need this accommodation, please request this early to allow time for you to receive and cast your accessible ballot.
In-person voting locations are required by state and federal law to be accessible in accordance with the Americans With Disabilities Act and the Help America Vote Act. If your town is not following these requirements, please report it to the State of New Jersey here.
While voting in-person, you have the right to bring someone to help you vote, request assistance from a poll worker, use an accessible voting machine, and protect the privacy of your vote. Basically, you can have assistance voting, but it is not required.
Please consult with your County Clerk's office for information about in-person voting.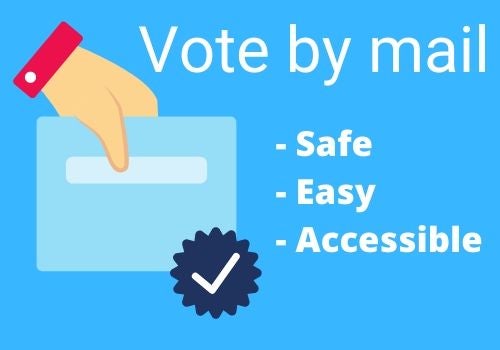 If you are having trouble voting, registering, or requesting an absentee ballot. Please either email Jcaplan@nj.easterseals.com or reach out to 866ourvote.org or call 1-866-OUR-VOTE (1-866-687-8683).
Additionally, Vote.org has put together a compressive webpage listing all of the information you need to know about voting, registration, important dates and more. You may also refer to their Election Protection Information Guide.
Understanding Your Ballot
2021 is a state election year. This means that only state and local races will appear on your ballot. You will have the opportunity to vote for a candidate for Governor and State Assembly and depending on your location, State Senate, and county and local offices.
Over the next few weeks, we will be sharing information about the election in an unbiased and unvarnished way to provide you with things you need to know about the upcoming elections.
HeadCount is a great resource to learn about the candidates you will see on your ballot.
If you have any questions about what races are coming up in the November 2nd general election, please let us know.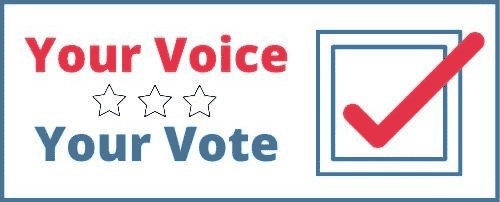 Election Overview
This election will be conducted in-person, but you still have the option to vote by mail. To vote on election day, simply go to your assigned polling place and cast your vote. If you require a large print ballot or other accommodations, you may request one from your County Clerk.
You will not automatically receive a vote by mail ballot unless you previously requested to vote by mail in every election. Please click here to request a vote by mail ballot.
This is also the first year that New Jersey will have in-person early voting. There will be nine days of early in-person voting, including two weekends, ending the Sunday before Election Day. Please visit the in-person early voting page for the locations of early voting sites in your home county. Please let us know if you have any questions about how you can vote early!
Please note that your Vote-By-Mail ballot CANNOT be returned to your polling place for this election. You must return it either via the mail or at a drop box location.
DO NOT SEND IN YOUR VOTE BY MAIL BALLOT AND THEN VOTE IN PERSON, THIS IS A FELONY PUNISHABLE BY SEVERE FINES AND JAIL TIME.
If you choose to vote in person, please wear a mask, practice social distancing, wash your hands after voting and follow all instructions from your local poll workers.
Sign Our Voting Pledge Today!
Please take one minute to sign our 2021 Voter Pledge! Commit to voting so that people with living disabilities and those who care for them can have a role in shaping the results of the 2021 election.
You can also use this form to request voting assistance form Easterseals New Jersey. We will ensure you or the individuals in your care are connected to the resources you need to ensure your votes are counted!
Last updated: September 28, 2021