Taking to Capitol Hill: Employment for People With Disabilities, Older Workers and Veterans IS a Priority
On Tuesday, June 24, members of 49 Easter Seals affiliates across the nation gathered in our nation's capital to march on Capitol Hill and advocate for the funding and programs that support employment for adults, seniors and veterans with disabilities. Together, we met with all of our congressmen and women including New Jersey's representatives and senators to discuss how Easter Seals is making a difference in the communities they represent and serve. We reminded them of some of the staggering statistics facing people with disabilities and veterans:
80% of people with disabilities who want to work are NOT represented in the workforce - compared to 70% of people without disabilities who ARE
Gulf War veterans represent 1/2 of all unemployed veterans
Female veterans are the fastest growing homeless population
The over-65 age group is the most employed demographic population
Our agenda was to urge our Senators and Representatives to pass the Workforce Investment Act, the Homeless Veterans' Reintegration Program and the Senior Community Service Employment Program.
Why?
We want individuals with disabilities, older adults and veterans to get jobs
Too many people struggle to find meaningful work
Congress MUST increase access to employment services and supports and improve employment outcomes and opportunities for these populations
We are elated to say that in the day following our visit we received news that the United States Senate overwhelmingly approved 95-3 the Workforce Innovation and Opportunity Act (H.R. 803), the long-overdue update to our nation's job training and employment initiative! This Act will increase access to employment services and preserve employment options for people with disabilities. We call that SUCCESS!
Easter Seals New Jersey is dedicated to continuing its advocacy efforts locally and nationally in support of people with disabilities today and in the future.
View photos and learn more about Capitol Hill Day with Easter Seals by following #CapHill14 on Twitter!
What can you do to get in on the action?
Senators Need to Hear YOUR Support FOR International Disability Rights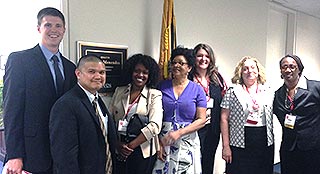 Easter Seals is calling on its supporters to join in a final push to convince the U.S. Senate to approve the UN Convention on the Rights of People with Disabilities (CRPD), an international agreement based on our Americans with Disabilities Act.
Just before the New Year, Sen. Bob Corker (R-Tenn.), Ranking Member on the Senate Foreign Relations Committee, stopped negotiations on the CRPD with Chairman Bob Menendez (D-N.J.). Easter Seals wants to see the treaty approved, and to do that, we need Senator Corker to come back to the table and work to that end. People with disabilities deserve this treaty to be approved. Please take a minute and weigh in with your Senator.

TAKE ACTION: Please ask your Senator to vote to ratify the UN Convention on the Rights of Persons with Disabilities.