What a difference a year makes!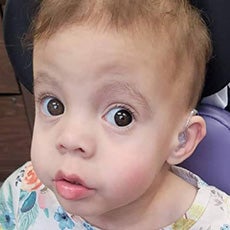 Sophia's Easterseals story began when she started receiving therapy at just 3 months old. Sophia is one of only 500 people worldwide with Pallister-Killian Syndrome (PKS), a rare chromosomal disorder. Reaching developmental milestones is challenging for Sophia, but Easterseals services empower this determined little girl to make amazing progress at her own pace!

At age 2, Sophia had just learned to sit up. She was still learning to eat and drink and relied on a feeding tube for nutrition. Now at age 3, Sophia gets into crawling position on her own and is very close to conquering crawling! She eats a variety of foods, can stand with assistance for up to 20 seconds, and sits up tall in her purple wheelchair to interact with her preschool classmates.

Sophia is thriving in the Mitchell Therapeutic Preschool at the Easterseals Early Learning Center, Evansville's ONLY fully inclusive early childhood program. She's very curious, and that helps her learn! She's constantly trying new things, like using switches to activate toys–her favorite is a school bus that sings "Wheels on the Bus." Sophia also just received her first hearing aids through the Easterseals Rehabilitation Center, opening a whole new world of communication!

What a difference a year can make in the life of a child. Thanks to generous supporters who make local Easterseals programs possible, Sophia will keep achieving her own unique goals and dreams!
Follow our link to read more local Easterseals Impact Stories!