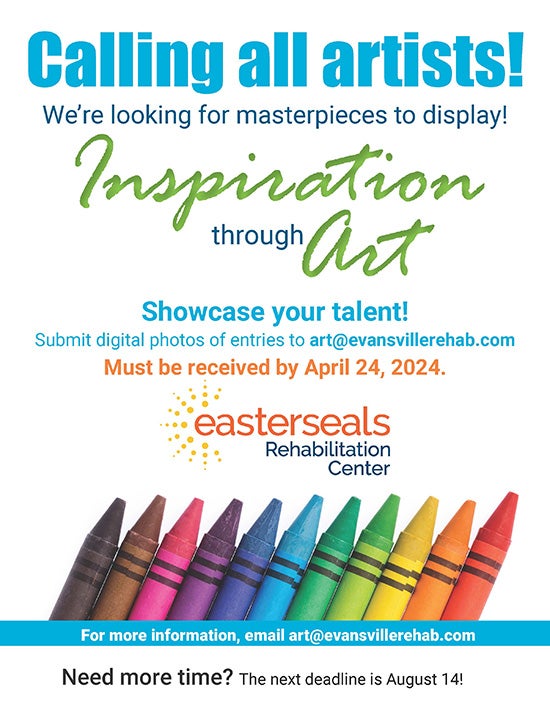 Winter 2023 Exhibit Timeline
November 15, 2023: Prospectus Released, registrations accepted
December 18, 2023: Registration Deadline with digital submission to art@evansvillerehab.com
December 20, 2023: Email Notification of Acceptance to Artists
January 2-4, 2024: Artwork drop-off (or other dates around that time by arrangement)
January 8, 2024: Exhibit Opening
April 24, 2024: Close of Exhibit
April 25-26, 2024: Artwork pick-up
Easterseals has created an opportunity for children and adults with disabilities to gain "Inspiration through Art!"
Many of the people we serve with disabilities receive therapy services and attend appointments at the Easterseals Rehabilitation Center at 3701 Bellemeade Ave. in Evansville. In many cases, they attend at least once a week, every week for extended periods of time and some will receive services for many years.
We are focused on making our facility reflect the great work our therapists are doing and finding ways to educate and engage our clients in community resources and activities. One great way to do that is through art!
We will be displaying the artwork for four months, rotating the work three times a year. "Inspiration through Art" exhibit is located in our main hallway, so there is a lot of traffic coming through each day. There is no theme at this time for "Inspiration through Art" but we ask that artwork be appropriate for children to see.
Artists may price pieces and there is no entry fee for submissions. (A standard 20% commission will be taken from artwork that is sold through the exhibit.)
We highly encourage artists of all abilities, ages, and art styles to submit artwork! Need more time? Deadline for the next exhibit is April 24, 2024.
How to submit your artwork:
Please fill out the online registration form found at https://forms.gle/L7mPBytgYHdEz4qF7 and submit a digital photo of your entry(s) to art@evansvillerehab.com
Or download a Registration Packet by clicking the link below: