Always a good day!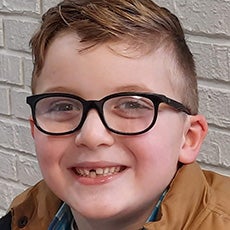 When you meet Charlie Joyner, you just have to smile. His joyful outlook on life is contagious. "He is always - and I mean always - happy!" said Charlie's mom Libby. "He never has a bad day." So you might be surprised to learn that Charlie faces big challenges on a daily basis.
This 7-year-old has to work much harder than other kids to do things like printing the alphabet, getting dressed independently, standing without assistance, and walking. Charlie was born with cerebral palsy, but he's joyfully pursuing his dreams, thanks to services made possible by generous Easterseals supporters.
When Charlie started Easterseals therapy at age 3, he needed a gait trainer with chest supports, a saddle, and ankle straps just to stand upright. Now Charlie walks - and even runs - using a walker! He's learning to use canes, the next step toward walking with no assistance. Charlie dreams of playing soccer, so he's learning to kick a ball. Easterseals is also teaching him to print his name and button his shirt. These skills are helping Charlie succeed at Spottsville Elementary School, near the family's home in Henderson KY. Libby said, "It is well worth the weekly drive (to the Easterseals Rehabilitation Center in Evansville) for therapy because of the progress we have seen!"
"Easterseals turned out to be exactly what we needed," Libby said. "They push Charlie to be better and do better. He loves it there and so do I. There's no other place I'd rather take him!"
Because of caring friends of Easterseals, life-changing services will be here for Charlie every step of the way on his journey to independence!
Follow our link to read more local Easterseals Impact Stories.