A taste of independence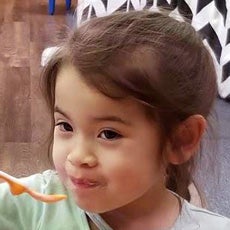 All parents look forward to their child's first smiles, first words, and first steps. Another important achievement is taking that first bite of solid food. It happens early for most children, but not for Maddie. Her parents were still hoping to see their daughter reach that milestone when she was 2 years old. That's when Maddie began attending the Easterseals Early Learning Center. It's the only fully inclusive program of its kind in our community, serving children of all abilities. And it only exists because of generous support like YOURS!

Maddie has developmental delays, and eating solid food has been one of her biggest challenges. Her aversion to most food textures made mealtimes a struggle. She got most of her nourishment by drinking liquids from a bottle. Solids had to be pureed, and even then, Maddie often couldn't tolerate those foods.

Every day for more than two years, Easterseals teachers and therapists worked diligently to help Maddie reach her goal of eating solid food. Progress was slow, and everyone was concerned about Maddie's nutrition. She would rarely open her mouth and allow food to enter. But thanks to YOUR support, no one gave up on Maddie.

Then it happened! Something clicked! Maddie's teacher offered her a bowl of yogurt, as she had done many times before. This time, Maddie picked up the spoon, scooped up some yogurt, and put it in her mouth all by herself–and she ate the entire bowlful!

Eating independently is becoming a daily routine for Maddie, who is learning to enjoy different food textures. Now almost 5 years old, she's also working on other important goals to get ready for kindergarten.

YOU make it possible for Maddie and other local children of all abilities to achieve their greatest potential. THANK YOU for changing lives every single day!
Follow our link to read more local Easterseals Impact Stories.