A Sibling's Love: Caring for a Sister with Disabilities
by Amber Travis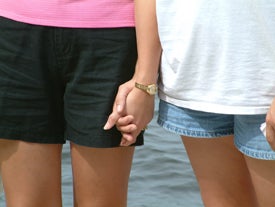 Mary Sykes and Debbie Marciano are not your average sisters. Mary, 67, says she and Debbie, 58, have always been close but life has made their bond even stronger.
Debbie was born with Down Syndrome, but her disability never stopped her from being someone Mary could turn to during tough times while growing up. Mary describes her younger sister as a very happy person who "loves music, loves to dance and loves to go to family parties."
"When I had problems, Debbie just kept my spirits up," Mary says. "You couldn't ask for a better person to talk to. We were very close. We still are."
Mary and Debbie's mother raised the girls and their five brothers alone, but it never stopped her from being a great caregiver for her children, particularly Debbie, until she fell ill and developed Alzheimer's disease in 1974. Soon after, Mary moved out of her apartment and quit her job as a bartender to become the primary caregiver for her mother and Debbie.
"It was just my mother, Debbie, and me," Mary says. "It was hard but I loved it. I didn't want to put them in a home."
Their mother died about a year later.
Over the course of time, Debbie has lost her eyesight and considered legally blind, and yet, Mary says her sister is still one of the strongest and most positive people she's ever known. Mary is also grateful for resources and organizations like Easterseals that provide assistance with food and medical equipment such as a day bed for Debbie.
What's next for Mary and Debbie? Well, Mary says the plan is simply for her and her sister to remain healthy and continue receiving the resources they need.
Read more about the new faces of caregiving today
Text FAMILY CARES to 80077 to join Easterseals mobile community and get more caregiving resources and information.
SMS Subscription service. Up to 4msg/mo. Msg&Data Rates May Apply. Text STOP to 80077 to STOP. Full terms:

mGive.com/E

Privacy Policy:

mGive.org/P