Patient Dashboard
This Dashboard will allow you to update your/your child's demographic and medical information, update insurance and other payment details, sign annual forms and access reports completed by your therapist at your convenience.

Check-in for appointments can be done at the lobby kiosks, the Patient Dashboard (link above) from home or in the parking lot on the day of the appointment, or with Reception. For aquatics, tele-therapy, and in-home services: please check-in using your patient dashboard.

If you have any difficulty with the check-in process or logging into your dashboard, our staff remains available to help you. You may email portalhelp@eastersealsdfvr.org for questions or help with log-in credentials.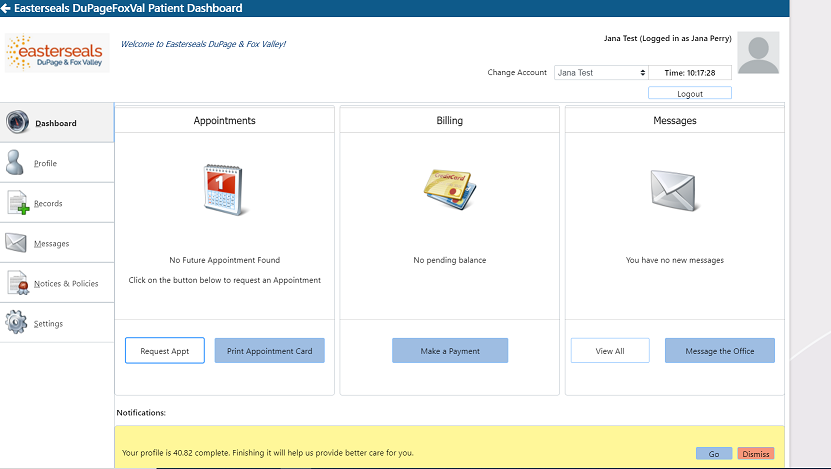 PROFILE – opens your personal information/demographics, insurance information, and contact records.
RECORDS – opens tabs for Medical History, Patient Forms, and Visit Summaries (reports from therapy services). The additional tabs will be available soon.
MESSAGES – allows you to send requests through the system. A member of our team will forward your message to the appropriate person. This is for non-urgent requests.
NOTICES & POLICIES – includes copies of frequently used forms, attendance policies, outcome data and other information that you may be interested in knowing.
Across the center of the screen, you will see that you may print your appointment card, pay your bill, and read messages that have been sent in response to your questions.
MORE THAN ONE CHILD? Switch between accounts using the arrows at the top right – Change Account. For families with more than one child enrolled, you will use the same log-in credentials for all children. When you log-in, you will select which child's account you need to access in the top right of the screen. (Always be sure that you are in the correct client's account before making changes to personal information and medical history.)
Self Check-In Kiosks
Want to skip the line (or you are receiving aquatics services, in-home, or tele-therapy services)? You can complete your check-in from the Patient Dashboard from any browser with internet service. If in the center and having difficulty with a kiosk, pleas see reception for assistance.
To check-in, enter the child/client's Last Name and Date of Birth, then press next.

Select your relationship to the client
Adults – it is me; Children – select authorized parent, guardian, representative

You will get a drop-down menu to select your name.

If you are not listed and you are a parent or legal guardian, please select it is me, complete the check-in process and then see reception to learn what you must do to be listed.
If you are a caregiver, other than a parent or legal guardian, please ask for a form for the parent to complete for you to escort the child to future services.

The system will verify your first appointment time for the day and who it is with. It will also have COVID-19 pre-screening questions to answer. Please read and answer the COVID screening questionnaire carefully even if vaccinated.

For first-time users, you will be prompted to complete information include confirming the client's demographics, upload an insurance card (if none on file), confirm medical history, enter an emergency contact (someone other than parents), and electronically sign annual forms and communication preferences. Please allow extra time to go through these questions.

COVID-19 Screening Questions & Procedures
Stay home and reschedule to tele-therapy if experiencing symptoms of viral or bacterial illnesses including COVID, colds, flu, gastrointestinal illness, etc. If you need assistance at check-in or are not sure how to answer a question, a Receptionist is available to help you. For up to date health policy information, please click here.


Cancellation Procedures

We believe that consistent attendance and parent participation are key requirements for successful therapy outcomes. Our policy is for client attendance to be 85% or better to meet this goal. Please notify us of a need to reschedule or cancel with at least 24 hours notice whenever possible. Cancellations after 8:00AM on the date of service without attempt to reschedule are subject to a $50 fee. Failure to contact prior to the start of your appointment will result in a $100 no-show fee.

When you must cancel or reschedule, please email us at: cancel@eastersealsdfvr.org or call the main Center number and ask to be transferred to Scheduling. It is helpful to include the following information with the client's name and:

What service(s)

Which therapist(s)

Day(s), Date(s) and time of appointment(s) you are canceling

Reason for cancellation

Days and times you are available for reschedule

With these procedures in place, we have had minimal disruptions in our services, whether at a Center or via tele-therapy. We are happy to change an appointment to tele-therapy when attending in the center is not possible.

Tele-therapy remains a service option if you have a problem or delay in getting to the Center, are quarantining for any reason, or you/your child have symptoms that exclude you from in-center services but are feeling well enough to proceed with therapy virtually. You can call the center or again, email cancel@eastersealsdfvr.org and we will notify your therapist of a switch to tele-therapy.

It is also important to pay all co-pays at the time of service and promptly pay your monthly bills. Thank you!