Children's Services
Early Childhood Education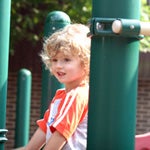 For over 50 years, Easterseals Central and Southeast Ohio has been providing early childhood education programs meant to promote skill development for children with, or at risk for, developmental disabilities and delays.
Significant research has shown the earlier intervention occurs in a child's life, the more success that child will experience. By helping children with their cognitive, physical, emotional and social skills, early childhood education programs have demonstrated the ability to make postive impacts on the lives of children and families.
Our early childhood education program is designed to meet the needs of the children at their levels of ability. A group-oriented, facility-based program is offered for children 12-36 months of age. An individual plan is developed for each child and his/her family, outlining goals to be focused on over the course of the school year. A variety of services help children achieve their goals.
Services include:
· Educational and therapeutic services
· Daily use of a fully accessible play yard and/or gross motor room
· Individual family service plans
· Transportation to those who could otherwise not attend
· In-home visits throughout the school year
· Transition to a preschool setting
Classroom size is limited to eight children with one certified teacher and teacher's assistant per classroom. Students also work with trained physical, occupational and speech therapists.
Download a flyer of our Early Intervention program here.
Contact us for more information about Easterseals programs and services.