Making Life Accessible
What is Assistive Technology and how can it improve your ability to live independently?

Assistive Technology (AT) is any device, system or related service that maintains or improves the functional capability of individuals with disabilities. AT can be beneficial to people of all ages with a variety of disabilities or special needs, both long-term and short term. AT could be considered "tools for independence" to allow someone to live, work, learn or play more independently.

Easter Seals Resource and Technology Demonstration Center
Housed in our New Castle location, visitors can try hundreds of assistive devices on display and search through thousands of products in catalogs and DVDs that will help them maintain or improve independence and home safety. Come in for a tour! For more information, email resources@esdel.org or call (302) 221-2087.
Click here to take a virtual tour of the center.
Click here for a downloadable flyer on the Resource and Technology Demonstration Center. (.pdf)
Low-Interest Loans for More Accessible Living
In collaboration with the state Division of Vocational Rehabilitation, our partnerships with lending institutions can help finance assistive technology for home, work, or even vehicle modifications, with lower interest loans. Our Case Manager will help guide you through the process. For more information, email resources@esdel.org or call (302) 221-2076. Click here for more information. (.pdf)
Click here for the FYI: Finance Your Independence flyer.
Workplace Accessibility
Are you someone with a disability who needs assistive technology to work more independently or more successfully? Through the Telework Program, our Case Manager will guide you through the process to apply for a lower interest loan to purchase the assistive technology you need. Check out our Telework Program here. (.pdf)
Seating Assessments: Comfort and Safety for Wheelchair Users
Proper fit of the wheelchair and seating components is essential for any mobility device. The correct wheelchair and seating system can increase independence, prevent skin breakdown and improve comfort. Easter Seals is one of only two providers who use computerized pressure mapping when skin breakdown is a concern. If you have wheelchair concerns, our seating assessment service may be the answer. Click here for more details. (.pdf)
Communication Aids/Assessments: The ability to communicate is something we take for granted, until you no longer have it.
Speech generating devices can help someone who has a communication limitation, i.e. due to stroke, multiple sclerosis, cognitive impairments, etc. successfully communicate with others. Through our Augmentative Communications assessment service, various devices can be tried to determine what works best for the client. Click here for more details. (.pdf)
Other Resources
Break down barriers and be sure we can include everyone.
Easterseals and Freddie Mac Offer Financial Guidance
Get smart about your credit and work towards your homeownership goal. Get financial advice here.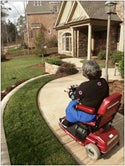 Easterseals Project ACTION
Find accessible public transportation.
National Center on Senior Transportation
Increasing transportation options for older adults and enhancing their ability to live more independently within their communities throughout the United States.
Accessibility of the Web and Web Tools
Easterseals leads efforts to put people with disabilities to work on the Web and to promote Web accessibility.
s.a.f.e.t.y. first
Be sure you and your colleages have an emergency evacuation plan.
Accessible Child Care
Make your child care center accessible for children of all abilities.
FRIENDS WHO CARE®
FRIENDS WHO CARE® is designed to help children better understand what it means and how it feels to be a young person with a disability.