Sweet Tomatoes & Souplantation support Easterseals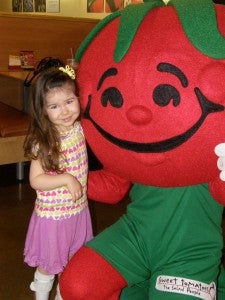 This June, Sweet Tomatoes & Souplantation restaurants will support Easterseals through their annual donation campaign. From June 1 through June 30, Sweet Tomatoes & Souplantation restaurants will donate $1 to Easterseals for each bag of famous cookies sold. Guests will also receive a coupon for a return visit as a thank you gift for purchasing the homemade cookies.
Every time you and your family visit Sweet Tomatoes & Souplantation in June, you can help support essential disability programs in your community. Sweet Tomatoes has partnered with Easterseals for seven years with nearly $218,000 in contributions. With the help of generous consumers, twenty-one Easterseals affiliate organizations will benefit from this campaign created by Sweet Tomatoes and Easterseals.
About Sweet Tomatoes & Souplantation
Headquartered in San Diego, CA, Garden Fresh Restaurant Corp. operates 128 restaurants in 15 states under 3 brand names: Souplantation (only in Southern CA), Sweet Tomatoes and Souplantation/Sweet Tomatoes Express. The restaurants provide a one-of-a-kind dining experience where guests have the freedom to create their own fresh and wholesome meal from an abundant salad bar paired with a selection of 8 craveable soups, hot pastas, fresh from the oven baked goods and delectable desserts. Passionately serving families, friends and their communities for more than 35 years, the restaurants are known for their farm-fresh seasonal ingredients, made-from-scratch recipes and hospitable service, all at an everyday value. For more information: www.souplantation.com or www.sweettomatoes.com.