Nancy H. Goguen
Bernardsville, New Jersey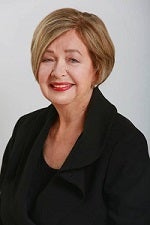 Immediate Past Chair Nancy H. Goguen assumed an additional one-year term as Chair of the Easterseals National Board of Directors in July 2020.
Nancy's leadership as Chair (since October 2018) has ensured the sustainability of the National Office while advancing strategies to build a stronger Easterseals Network positioned for greater impact in the lives of the one in four Americans living with disability today.
Her service to Easterseals at the National and Affiliate levels throughout the years has been remarkable. She has been an engaged and influential volunteer with Easterseals New Jersey for more than a decade, serving as its Chair from 2009 until 2013. At the national level during that same period, she served on the Membership and Organizational Structure (MOS) Committee for a number of years (including two as Chair), was House Regional Liaison and was a member of the House of Delegates. Elected to the National Board in November 2010 and re-elected in 2013, Nancy served as Board Secretary, Chair of the Public Affairs Committee and was a member of the Executive and House Nominating Committees. In 2016, she was elected to serve as an Honorary Board Member and was on the Finance and Public Policy Committees. The following year, Nancy served as Chair of the CEO Search Committee and was instrumental in bringing Angela to Easterseals before being named Board Chair in October of 2018.
Upon accepting the extended term as Chair, Goguen said, "I am deeply honored and privileged to serve an additional year as Chair. In the midst of all that has upended what is normal, Easterseals has the opportunity to strengthen our vision and our delivery of outstanding services by advancing cohesive delivery systems that are more effective and efficient to improve the lives of the people we serve. And, through our work with Greater Good Studio, we are moving towards making use of the Network's power to increase our reach, impact and outcomes together. What an exciting time for us! Thank you for the trust and confidence you have invested in me."