Honoring Our DSP's
Easter Seals New Jersey Recognizes its Dedicated Direct Support Professionals (DSPs)
What Being a DSP Means to Kristin P. at CSS Oakhurst
September 2016

From the minute we pick up our program participants to the minute we drop them off, we are responsible for creating an environment that welcomes them. We are charged with making them feel safe and entertained. The best part of being a DSP at Easterseals is working with the people we serve. Every day is a fun, new experience for them as well as us; whether it's working on a project, community volunteering, or taking awesome day trips. The laughs and the happiness, and watching them achieve independence in everyday tasks is enough to make it worth coming to work every day.
I came into this field about 2 1/2 years ago and never looked back.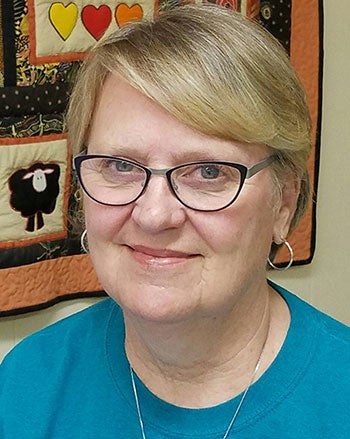 37 Years of Service, Mary S. Tells Us What Keeps Her Coming Back
September 2016

I began my 37 year career at Easterseals Camp Merry Heart in January 1980 at $3.15/hr….in fact, I didn't even know the salary….I just lived so closely, heard the bugle blow, and noticed counselors pushing campers up the hill to Hackettstown each summer….and I wanted to be a part of it. Two mornings a week turned into a career of a lifetime; the ability to help campers find funding is my favorite part of the job. I learned that no one is turned away because of inability to pay in the early years; however, it is harder and harder to do with rising costs of everything. As one of my former director's said, "she can sell ice to an Eskimo"! I have had the pleasure of working with six wonderful bosses over these years and can call each of them "friend". Consistency and customer service is the key to everything, and I try to do the best job I can every day. I love to tell the history of camp how five men with polio worked together to establish Camp Merry Heart in 1949; I could have never had another career that enabled me to meet so many wonderful campers and their families and staff from all over the world …..these young people whose lives are changed by a summer of giving and hard work. Often, when I get out of the office long enough to cruise through the dining hall, I am honored by the room erupting with the "Camp Merry Heart" song in my honor….to keep that song in the hearts of all new Merry Hearters is my mission!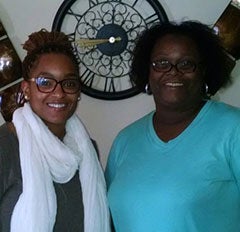 Kendell (left) with participant Sharon (right)
What Being a DSP Means to Kendall H., a Specialized Case manager with ICMS
September 2016
As a Specialized Case manager with ICMS, I work with individuals who have a variety of psychiatric diagnoses such as depression, bipolar disorder, severe anxiety, schizophrenia, schizoaffective disorder, and borderline personality disorder. For these individuals managing their mental health, keeping up with daily tasks can be a struggle. My role as a case manager is to assist consumers with getting various services and linkages in place so that they can gain independence and feel more confident and productive overall. This may include helping them apply for social security, assisting with finding housing, applying for financial assistance through social services, finding mental health professionals, medication education, finding various doctors, budgeting, establishing a schedule, improving socialization and finding employment… just to name a few.
For me, the best part of my job is seeing the progress consumers make during my time working with them. Some of the consumers I have worked with had been in a very bad place when they first began services. Seeing consumers graduate from the program with a new light in their eyes and being more optimistic overall is probably the most rewarding part of my job. I like the fact that I am literally helping some people build a new life from the ground up. I also think that working in this field has given me a new sense of empathy and compassion for those who struggle with mental illness. To most of my consumers, I have not only been a case manager, but an important person in their lives who had their best interests at heart. I am truly humbled and honored to be held in this esteem.
---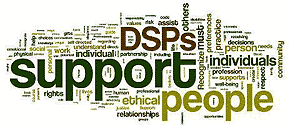 The heart and soul of our mission is carried out by our talented, dedicated, and hard-working our direct support professionals (DSP's) who positively impact the lives of our program participants each and every day.

I continually hear stories about how our DSP's tirelessly make a difference in the lives of so many - day in and day out - and I want to take this opportunity to thank all of them for their continued dedication and hard work in providing quality, life-enhancing services 24 hours a day, 365 days a year.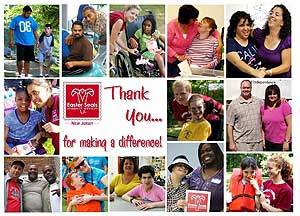 This week we honor, recognize, and celebrate their work. We recognize that the support of individuals with disabilities and special needs to live, learn, work and play in their communities with equality, dignity and independence makes Easter Seals a very special part of the families and the communities we serve.

We thank them for all they do!

- Brian Fitzgerald, President/CEO, Easter Seals NJ
---
Judi Ranno (center) is presented with the 2014 NJACP Leadership Award at the 31st Annual Conference in Atlantic City, NJ, by Vicky Calabro, NJACP President-Board of Directors (left) and Valerie Sellers, NJACP CEO (right).
Easter Seals NJ Direct Support Professional receives 2014 NJACP Leadership Award

The New Jersey Association of Community Providers (NJACP) represents a diverse community of providers dedicated to elevating community-based services that enrich lives and build futures for people with intellectual and developmental disabilities. Each year, the NJACP presents leadership awards in recognition of outstanding employee contributions in support of people with such disabilities across the state.

Easter Seals NJ is proud to congratulate Direct Support Professional (DSP), Judi Ranno, on being the recipient of this year's award.

Judi was nominated because of her strong leadership skills and commitment to making a difference in the lives of the nearly 75 program participants she supports daily in her position as a DSP/Nurse at our adult day program in Lakewood.

"She is a role model who has earned everyone's respect and admiration for her professionalism and for always going the extra mile to provide the very best services possible. Her kind, supportive and calming nature does not go unnoticed by the individuals she works with, their caregivers, and her fellow staff member," says Brian Fitzgerald, President and CEO of Easter Seals NJ. "All of Judi's actions demonstrate love and kindness and she possesses an amazing ability to connect with people and make them feel special and valued. Above all, she strives to ensure that every day is a special one for each individual she supports."

At Easter Seals New Jersey, we value people for who they are, what they offer, and what they hope to achieve. Judi is steadfast in demonstrating that value to our program participants, her fellow staff members, and anyone who has the pleasure of interacting with her. Again, we congratulate her on this well-deserved recognition and thank her sincerely for exemplifying our mission to positively impact the lives of people with disabilities.
Updated September 12, 2016