Ready to soar!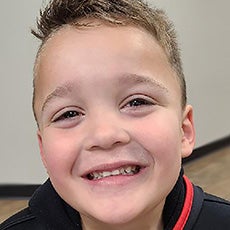 Phoenix was born more than three months early and spent 178 difficult days in the NICU before going home. He faced serious medical conditions, delays in development, and eventually a diagnosis of cerebral palsy. With all of those obstacles, what would Phoenix be able to accomplish? No one knew.

At 16 months, Phoenix still wasn't walking, eating solid food, or reaching other important milestones. That's when he began attending Evansville's only fully inclusive early childhood program–the Easterseals Early Learning Center–which is made possible by the generosity of Easterseals supporters. Things quickly started to change for Phoenix!

"The Early Learning Center is filled with kindness, inclusivity, and caring from the minute you walk through the door!" said Angie Black, Phoenix's mom. With the help of Easterseals teachers and therapists, Phoenix learned to eat table food, drink milk, walk, talk, and play alongside his classmates of all abilities. Now at age 5, he's getting ready for kindergarten next year! He's learning to hold a pencil, recognize letters and numbers, and use his words and emotions constructively. Now the sky's the limit for Phoenix!

MANY THANKS to all friends of Easterseals for empowering Phoenix–and so many other Tri-State children and adults–to achieve their own unique goals and dreams!
Follow our link to read more local Easterseals Impact Stories.