Some of Our Favorite Marriage Proposals
Here are a few romantic, unique, and even funny stories of marriage proposals, plus life after the wedding.
Mike and Beth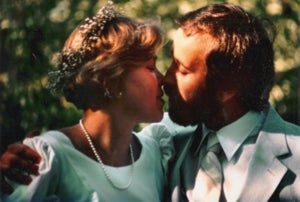 The time had come for Beth to tell her boyfriend Mike about her Type1 Diabetes, and that she could eventually go blind as a result of it. She would've understood if it was too much for him to take, but his response was far different from that.
"That's one of the reasons I fell in love with her," Mike says about his then-girlfriend who was diagnosed when she was 7 years old. "To be able to talk about it and have this kind of discussion lets me know that we'd be able to have these kinds of conversations [in the future]."
Beth and Mike met while studying journalism at the University of Illinois in Urbana-Champaign. Although they were friends throughout college, Mike reconnected with Beth, currently the blog coordinator for Easterseals, about three years after graduation in 1983. He couldn't get her out of his mind.
Fast forward to Christmas of that same year. Mike gave Beth a beautiful blue Peugeot bicycle complete with a basket. And in that moment, sitting next to the Christmas tree, Mike proposed.
"I mentioned the talk we had and how I appreciated it, and I knew we could work through things," Mike said. "Having that talk just made all the difference in the world."
The couple got married in July of 1984 and would later go on to have a son named Gus.
Follow Beth on the Easterseals blog.
Palmer and Joseph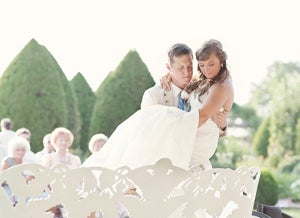 Palmer and Joseph's six-month engagement was fairly short, but Joseph's marriage proposal was a different story. It was four hours long!
The couple met during undergrad at Vanderbilt University. After graduation, they went their separate ways then reconnected shortly after Palmer, who was paralyzed from waist-down from a car accident at the age of 8, returned to the United States from serving abroad. "After that, we just became best friends," Palmer says. "And after a year of being best friends, he asked me to date him."
Joseph's proposal included an elaborate scavenger hunt in December 2010 that took them to several locations that were meaningful to them throughout their relationship, which included a scene of their first date. "He also took me to the first place where we'd ever had a deep conversation, which happened to be a booth in Burger King---complete with a table cloth and china," Palmer says, laughing.
Four hours later, Joseph finally proposed on a piece of land where he and Palmer always talked about building their dream home. "By the end of the four hours," says Palmer, "I knew it was coming, so I was really ready for him to ask the question."
They may not have had a long engagement, but Palmer credits their marriage to their foundation as friends. "I think because we were friends first, he knew me and he knew that nothing really ever got in my way," says Palmer. "We actually only dated about six months before we got engaged."
The couple married the following year in June 2011.
Read Palmer's tips for planning an accessible wedding here.
Janet and Joseph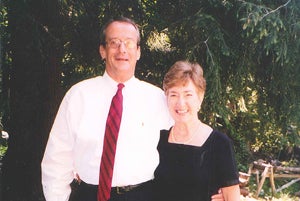 Janet and Joseph dated for six years before getting engaged, but all that time to prepare for the perfect proposal didn't quite help.
In fact, Janet describes her husband Joseph's proposal as "a comedy of errors." And she still laughs about it to this day.
Joseph, a retired marine, originally planned to propose on Valentine's Day, a couple of years after moving back to the United States, but instead, he proposed in the car right before leaving to go on a date. "He couldn't wait so he gave me [the ring] a week early," Janet says. "He totally surprised me because I kind of had a feeling that he would propose on Valentine's Day."
In fact, she was so surprised, she almost caused a fire. . "At the time, we were both smokers, and I was so surprised at the proposal, I tried putting my cigarette out in the ashtray, [but instead,] I missed and burned a hole in the front of the radio," Janet laughs.
The couple met in high school, but they didn't start dating until their freshman year of college. "I went to college right outside of Boston, and he went to college in Halifax, Nova Scotia, so for the four years while we were in college, we only saw one another for Christmas and in the summer," Janet says. "I used to hang out by the mailbox at school waiting to see if he would send me a letter. We wrote each other all the time."
Despite the long-distance courtship and the funny proposal, the marriage has worked---the couple has been married for almost 50 years, and they say it feels like yesterday when they first started dating (It was actually 1959.) Now 50 years, three children and three grandchildren later, Janet is still by her husband's side, and she looks forward to the next funny, crazy moment in their life together.
Explore more stories on love and relationships today.