A Wedding, a Wheelchair and No Worries
Palmer Harston Williams, who is paralyzed from the waist down, shares her ideas for planning an accessible wedding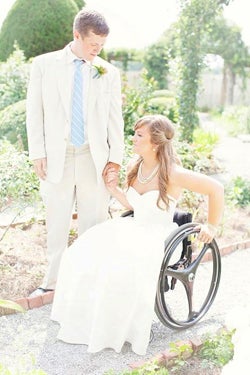 Palmer Williams wanted an outdoor wedding on a plush plantation just outside of Nashville, Tennessee.
Even though the plantation's grass and gravel aren't the best surfaces for her wheelchair, let alone a long white wedding gown, she and her fiancé found clever ways to have their dream wedding come to life.
The 28-year-old, who is paralyzed from the waist down since a car accident at the age of 8, let her fiancé, Joe, know her special concerns. "For me, it was a little intimidating, thinking 'I can't stand, so how am I going to come down the aisle?' and 'How will I stand at the front of the church and how is my dress going to fit right?'"
Even though she had a few questions on how she could pull off the wedding of her dreams with her disability, the former National Easterseals Youth Representative says there was nothing a few adjustments to a traditional wedding couldn't fix.
One of her initial concerns was how she would get down the aisle during the wedding ceremony. "I can generally traverse in grass and most terrains, but in my wedding dress, that was a little more of a challenge," Palmer says. "I didn't really want to go through grass and gravel on the way down the aisle and risk getting caught up in that."
As an alternative, her father built an aisle runner made of white plywood. "It definitely made me feel a lot more comfortable, because I didn't have to think about getting stuck, and I'm sure it's similar to what other brides think about when they're wearing high heels," Palmer says.
Although they both come from fairly traditional families, there was one wedding tradition that they decided to forego. Instead of waiting to see his bride as she came down the aisle, Joe saw Palmer before the ceremony started.
"We wanted to get our pictures taken beforehand, and I thought it would calm me down and calm my nerves to see him," Palmer says. "We also did it because I knew that my dress was pretty big and long, so by seeing each other beforehand, we were able to practice having my husband pick me up off the bench [where we'd say our vows] and put me back in my wheelchair in order to go back down the aisle."
Throughout her planning, Palmer noticed that there isn't much information on planning a wedding when you have a disability, and how to make the wedding accessible for the bride and groom, not just the guests. "I couldn't really find any resources out their [for brides with disabilities] so I'm willing to do anything that makes someone more comfortable."
Here are Palmer's tips for brides with disabilities like hers:
Tips for a Wheelchair Accessible Wedding Ceremony

1. Make sure the venues are accessible for all aspects of your ceremony and reception.
Visit your potential wedding venues to ensure the venue you choose will be accessible. Many venues managers and event planners are happy to assist you in working out all of the details for your big day, but let them know your plans. Be specific: think about your grand entrance, your first dance and dinner seating.
2. Alter a wedding dress to fit your chair and movements.
"I really wanted a traditional dress, and the dress I picked out had a lot of tulle in it," Palmer says. "If your dress doesn't necessarily fit with whatever braces or chair you might have, it's a good idea to have it altered." She also recommends trying the dress on ahead of time, not just to check the fit, but to ensure that it works with all of your planned activities for the day.
3. Find alternatives to your wheelchair.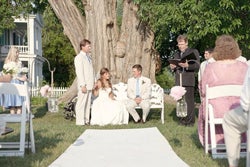 My sister and I went to this old antique store and got a pretty bench, and we had the bench facing the audience [during the ceremony]," Palmer says. "So when [we came down the aisle], my dad sat me on the bench, and my husband sat next to me so that we were both eye-to-eye. Now it's a bench that we have in our garden and we have it as a keepsake."
4. Get creative in the details of your day, too.
For example, Palmer's dad took some wheels from her older wheelchair and painted them white for her wedding day. "I thought it was a sweet touch," she says.
5. Be flexible but go for what you really want.
Try to be flexible and know that you can make the day great with a few adjustments. However, Palmer says you shouldn't be scared to book your event at that dream venue, even if it's not completely accessible. "I think people are generally willing to work with you and you don't have to let your disability, or a few stairs or your dress, get in the way of you having the wedding that you really want to have."
Explore more stories and advice on dating, love and relationships when you have a disability.
Read about Palmer's hunt for an accessible home