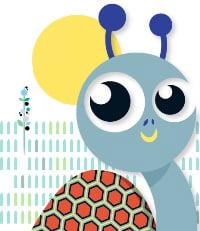 Wondering if your child is developing on track?
Take the Ages and Stages screening.
Children learn and grow at different rates. Easterseals can be your partner in helping your child reach their full potential.
Learn more: MaketheFirstFiveCount.org
How parents define child care varies according to individual family need, but the need for affordable, quality child care is great and growing! Studies by the American Academy of Pediatrics have confirmed that a child's brain structure is influenced significantly by their environment and experiences during the first few years of life.
Our Child Development Center Network is the largest provider of inclusive child care in the United States. With nearly 80 centers, Easterseals serves thousands of young children and their families, in a setting where children with disabilities and special needs comprise 25 percent of enrollment.
Make the First Five Count®
Make the First Five Count is about raising awareness for kids at risk for developmental delays. On MaketheFirstFive Count.org, you'll find resources like a free, online screening tool for parents to track their child's developmental milestones called the Ages and Stages Questionnaires®.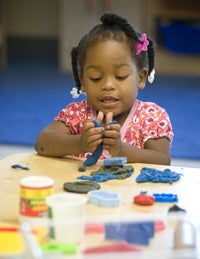 High-Quality Child Care
A child's environment and social experience in their first three years of life is critical to their brain development and can have a decisive, long-lasting impact on their well-being and ability to learn. For many parents, this is enough to make finding high-quality child care a top priority. The Easterseals Child Development Center Network responds to the needs and concerns of parents with children of all abilities.
Early Intervention
Early intervention services help young children with disabilities achieve their goals in cognitive, social/emotional, communicative, adaptive and physical development. Services may include occupational therapy to help an infant learn to hold her bottle, physical therapy to help her learn to roll over, or speech therapy to help her learn to eat. Most early intervention services take place in the home or, in the case of working parents, at child care facilities in the local community.
Child Development Centers
Featuring safe and caring environments, state-of-the-art tools and programs, individualized learning plans, highly qualified teachers, low child-adult ratios, low staff turnover, and active parent-center partnerships, Easterseals facilities are designed to provide young children with the optimal environment for successful learning and development.
The ABCs of Choosing Child Care
When researching child care facilities or talking to caregivers about the best care for your child, Easterseals suggests checking this short helpful list of questions to help ensure you receive the best child care possible.
Please contact Easterseals for more information about our Easterseals Child Development Centers and to find an Easterseals near you.