Camping and Recreation for People with Disabilities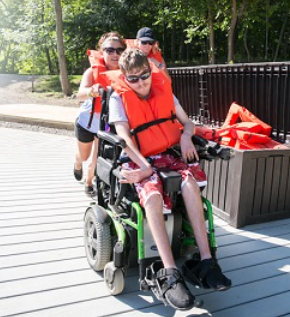 Easterseals is proud to be the largest provider of recreation and camping services for children and adults with disabilities in the United States.
Our camping and recreation programs provide safe and accessible spaces where people with disabilities are valued, respected, and accepted. We provide the best environment to try new things and make new friends in an inclusive and fun environment. Programs range from sports and fitness activities to after school play and social activities – all created to elevate community. Children and adults with and without disabilities can experience the joys of a residential or day camp experience while developing independence, confidence, and a sense of self – while their parents and caregivers get much-deserved respite.
Accessible Camping, Respite, and Recreation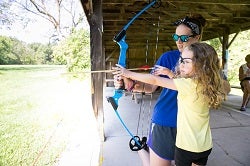 Easterseals offers both day camps and residential camps for children and adults. Respite opportunities for caregivers, including military family caregivers, are often available at Easterseals locations.
These programs let campers discover and explore their interests, values, and talents while also creating lifelong memories.
Our camps offer an array of accessible activities that all campers can enjoy. Activities include water sports, archery, arts and crafts, campfires, horseback riding, and much more. Social activities and community outings at Easterseals, both on- and offsite, offer opportunities that may not always be easily accessible to children and adults with disabilities.
Easterseals locations across the country coordinate many recreational activities including sports leagues, Bingo, outdoor adventure activities, dances, aquatics, and more! Connect with your local Easterseals to learn what is available near you.
Camp Stories: