Easter Seals Activity Book
We are very pleased to offer a free, downloadable activity book for families to share.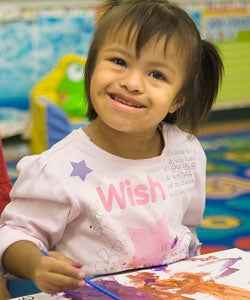 At Easter Seals, we know the first five years of life lay the foundation for a child's long-term well-being and overall success. Because children learn and grow at different rates, even the most attentive parents can miss some important milestones. As a leading provider of child development services, we are here to be your partner in raising a healthy and happy child. We'll help you be aware of the five key growth areas during these critical years before your child starts kindergarten. Every year, more than a million children will enter school with an undiagnosed developmental delay. We want to change that. We want to ensure all children start kindergarten with the right skills to succeed alongside their peers.
This 8-page booklet includes a maze, word search, connect-the-dots, and About Me section, a game page and much more plus the entire book is ready for your little artist to color!
To get your free activity book, click here!
To learn more about making the first five count click here.