Introduction
"Your life and mine shall be valued not by what we take... but by what we give." Those words, spoken by Easterseals' founder Edgar Allen over 90 years ago, began a movement. Today, we're thankful to you for being a part of that movement. With over 50 million Americans living with disabilities, our work is far from complete. We encourage you to help us call attention to the experience of people with disabilities, and to raise awareness of and advocate for the services they need to live, learn, work and play in their communities.
In the spotlight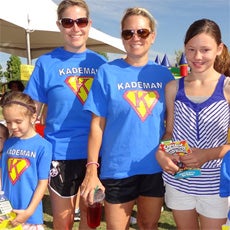 Easter Seals Walk With Me is an event to raise awareness and support for families living with disabilities! Join hundreds of passionate people in your community for a day full of entertainment, fun and, of course, our signature walk! Every walk event is different -- your walk could be at a local school or at the aquarium. But every walk is a lifeline of funds that enables your local Easter Seals to continue providing vital services and support to people with disabilities and their families.
Start a Fundraiser!
Start Your Own Fundraiser to Benefit Easterseals Michigan
If you are interested in starting your own fundraising event for Easterseals Michigan we can help you. We'll supply you with materials, giveaways, and advice. Just download, complete, and return this form or call Katie at 248-475-3624. Stumped on what type of fundraiser you want to do? We have a list of idea starters, click here.
If you are interested in becoming an Easterseals Champion, click here.
Support an Easterseals Champion
Would you like to support an individual that is currently raising funds for Easterseals Michigan? Support an Easterseals Michigan Champion clicking here.
Fundraise for an Easterseals Michigan Event That is Already Scheduled
Or if you would rather get involved with one of Easterseals Michigan's currently scheduled events, check out the list here.