"Employment Extenders" are a growing segment of the population working beyond the traditional age of retirement. Thirty-two percent of individuals ages 65 to 74 are projected to be working in 2030, according to the Bureau of Labor Statistics. Our recent study reveals that amidst "the Great Resignation" and the unpredictable changes that come with the recent mass exodus of workers, it is imperative for employers to support their aging workforce and position them for a successful transition into retirement. In return, employers can expect increased retention and savings on the cost of new-employee recruitment and onboarding.
"We are living longer healthier lives. We have more options now and retirement is just one. Many return to work to pursue different types of disciplines. That said, mature adults also bring unique value to companies and organizations with attributes such as reliability, dependability and a unique perspective due to life experiences. Employers need to be educated on the myths and truths about hiring workers. For example, retraining or retaining mature workers may be more cost-effective than hiring and onboarding their younger counterparts."
– Crystal Odom-McKinney, National Director of the Senior Community Service Employment Program (SCSEP) at Easterseals
Easterseals supports unemployed veterans, mature adults, and jobseekers with disabilities through the Senior Community Service Employment Program. 65 percent of SCSEP participants are women, 46 percent are persons of color, and 88 percent have incomes below the federal poverty level. The average age of participants is 62. Individuals from all walks of life come through the program but many have similar challenges rooted in the need for financial stability. To achieve that stability, working past the generally recognized retirement age (65-67) may be a requirement. Some mature workers also want to continue their passions instead of retire.
Voya Cares® and Easterseals commissioned Edge Research to develop a nationwide survey to gain insights into the Employment Extender mindset and how employers can support this population. Here are some key findings.
1. As the labor force continues to age, many working past retirement age may be telling themselves they are making a choice to work longer, but in fact, they may be doing so out of necessity.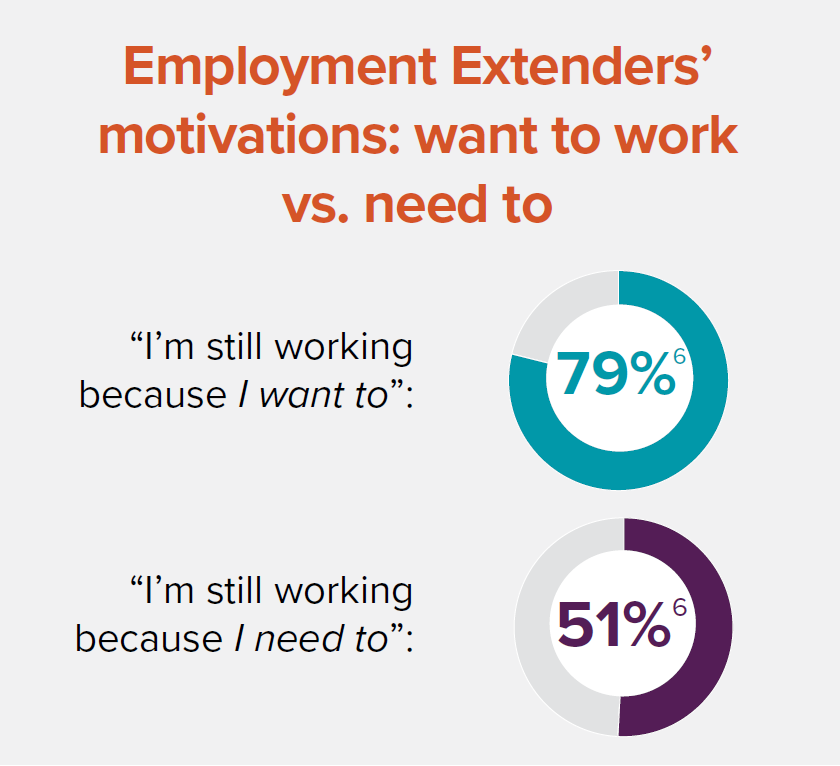 2. Most Employment Extenders are not thinking about the increased likelihood that they or a loved one may become disabled as they age. Nor are they planning for the high costs of care that will be needed.

3. The current economic and business climate is also changing calculations about work and retirement.

View the Entire Study Here