Autism Success Stories
Easterseals autism services help people live, learn, work, play, and act in their communities. From children to adults, our programs are tailored to help individuals of all ages achieve their goals through a tailored and caring approach. Check out some of the success stories of Easterseals friends across the country: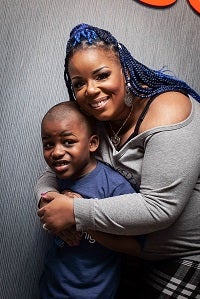 Mayna Hunter helped her son, Micah, become the first kid on the autism spectrum Easterseals Michigan has ever virtually potty-trained during the COVID-19 pandemic. Mayna and Micah spent five consecutive hours with an Easterseals tech and the Michigan autism services director to make this happen. The pandemic may have altered the way we offer services, but it has never changed our determination to deliver our services to the people that rely on us the most.
The Easterseals Greater Houston transition team met Paul and his mother in June of 2017 when he was a client in the Hogg Foundation for Mental Health Transition Age Youth Project of Easterseals Greater Houston/DARS. Thanks to the Hogg Foundation, this project offers services and support for persons aged 16-27 who have autism and a co-occurring mental illness, and is designed to help youth become more independent and successful in their communities. The many facets of the program include social skills training, supported employment, summer internships, college classes at the Houston Community College VAST Academy, BCBA Services, peer supports, referral assistance, financial coaching, online driver's education and access to Easterseals Greater Houston's mobile technology program.
Paul had just graduated from Sam Rayburn High School in Pasadena, Texas. His only work history was as a volunteer through a high school program with a couple of companies in the Pasadena area. Paul and his parents wanted him to find a part-time job with a number of specific requirements such as close to home, with work hours after 4:00 p.m. throughout the week. Together, Paul and his transition counselor, Robert Arranda, created a resume reflecting his volunteer experience and a reference list of his former supervisors. They met to complete online applications, practiced mock interviews and reviewed social skills for interviewing techniques. Paul interviewed with companies through summer and fall.
In December, Wal-Mart called Paul in for an interview. His Transition Counselor says he is a very likable and responsible individual and that he really wants to show his parents that he is able to expand his learning curve and become more independent. Paul's interview at Wal-Mart was a hit with the Human Resources Department, and he was hired this past December as a Cart Attendant. Wal-Mart was very accommodating assisting Paul with the work schedule he needed. Within two months, Paul's supervisors noted his great work ethic, enthusiasm and customer service. Paul was selected Wal-Mart Employee of the Month for February!
Finding a job wasn't an easy task for Kendra Jones. In fact, before finding her way to the Easterseals Rehabilitation Center's New Frontiers Employment Services, Kendra had very little interaction with non-family members. Kendra has autism, which sometimes makes connecting with others a difficult task.
That's where Keith Lender came in. Keith is a job coach with New Frontiers. He helped Kendra develop social skills through outings to the mall, the library, and other community locations. Kendra wanted to work at a restaurant, so Keith helped her find a trial position at The Carousel Restaurant in Evansville. He assisted Kendra in learning the job skills she needed. She did so well, her supervisor Robin Wade offered Kendra a permanent position.
Kendra celebrated two years at The Carousel in February. Keith said he never saw Kendra smile until she started her new job.Prior to working with Keith and New Frontiers, Kendra was shy and lacked confidence. Now Kendra has a newfound independence. She rides the bus to and from work each day and to purchase art supplies for her favorite hobby.
"She's bubbly," Robin said. "You see her walking across the parking lot, and she's dancing on her way to work. She's singing with her headphones on. She's ready to be here. It's pretty nice to see that."
The Easterseals Rehabilitation Center's New Frontiers Employment Services helps adults with disabilities who want to work discover their own interests and abilities and learn social and daily living skills. Job coaches also teach clients how to search for jobs, prepare resumes, apply for jobs and prepare for and go to interviews. Keith said the goal is always long-term employment.
Alex was diagnosed with autism at a very young age. He was a happy and loving baby, but did not meet his physical milestones. He took his first steps on his second birthday after an entire summer of physical therapy. He did not speak until he was 5 years old and still has difficulty communicating. Things did not come easy for him but he worked extremely hard. As he got older, the signs of his autism became more apparent, and his family expanded the therapies in which Alex participated.
Kids with autism resist physical movement. It was the goal of his parents to make moving, exploring and trying new things part of Alex's normal everyday life. That is how Easterseals Michigan, through the Miracle League of Michigan baseball program, came into their lives. They started 8 years ago with the baseball program and since then, have participated in the bowling, football clinic, and dance program.
Said Donna, Alex's mom: "What we love about these programs is that he can explore what he likes and be physical in a safe environment free from judgement. I also love that Easterseals Michigan is constantly looking for new opportunities for our kids to explore."
At Easterseals Michigan, Alex gets to discover that he has no limitations. He has come a long way over the years, and people who meet him know him as a terrific young man with a great sense of humor.
Miami native Robert L. Becera, 21, has non-verbal autism and communicates with the world through his iPad. His mother and father assist him with many of the activities of daily living. At Easterseals South Florida, Robert loves being part of the Culinary Arts High School Program, working in the kitchen where he thrives in a teamwork environment of his classmates and peers.
Outside of Easterseals, Robert has made a positive impact on thousands of lives in South Florida. He was recently honored on the US House floor by Congresswoman Ileana Ros-Lehtinen for his role in Law Enforcement & Fire Rescue Training for the past 11 years on behalf of the Autism Society of Florida, where his mother, Teresa Becerra, serves as Executive Director.
Over the years, he has helped train more than 9,500 Miami Police Officers, firefighters and EMTs to identify people with developmental issues and tailor their actions and responses accordingly. With Robert's help, officers and first responders in South Florida are trained to de-escalate volatile emergency situations involving individuals on the autism spectrum or with mental illness. Robert's assistance and emergency response training has not only helped officers to connect with special needs young adults on an emotional level, it has also had a positive impact by broadening first responders' real-world perspectives, potentially saving lives in South Florida.