Thomas: Ready to Conquer Kindergarten
When Thomas started attending our Dan & Nancy Mitchell Therapeutic Preschool at age 3, he was unable to speak.
He couldn't tell his parents what he was thinking. He couldn't share his feelings with his classmates.
Our preschool teachers and speech therapist began working with Thomas every day.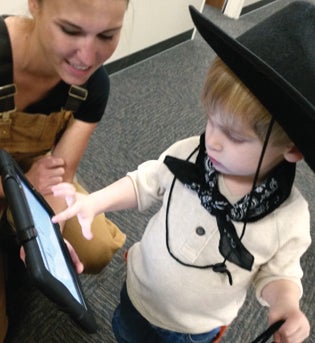 Within a few months Thomas was sharing his wants and needs by using an iPad that spoke for him. He learned to use the touch screen on his own and became more independent. For the first time, Thomas even had fun at Halloween, using his iPad to say "trick or treat" and "thank you" while collecting goodies with his friends.
Eventually Thomas began to say a few words. His parents were overjoyed when he started telling his dad to "go" at stoplights. The first sentence Thomas spoke to his mom was "I like pizza!" The family celebrated each new phrase, as Thomas spoke more and more words. He began to interact with family and friends. Thomas even started to sing and dance, and his sweet personality came shining through.

Mom and dad knew it was a momentous day when Thomas talked so much in class that his preschool teacher asked him to be quiet! That was just a few short weeks before Thomas graduated at age 5 along with his classmates at the Easterseals Rehabilitation Center. Now Thomas is ready to conquer kindergarten! A bright future awaits!
Achievements like these are within reach because you are a good friend of the Easterseals Rehabilitation Center. Thank you for making a real difference in the lives of local children and adults with disabilities every single day!
Follow our link to read more local Easterseals Impact Stories.