When the going gets tough... keep going!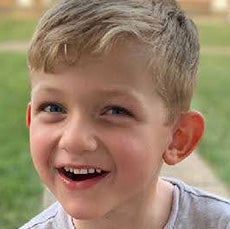 Jackson doesn't give up when things get tough. Easterseals therapies empower this determined 3-year-old from Evansville to keep working hard toward independence!

Jackson has a rare neuromuscular condition called Spinal Muscular Atrophy Type 2. Just four weeks after he was born, hospitals began testing newborns for SMA, but Jackson's condition went undiagnosed at that critical time. His muscles began to atrophy and his family fought for answers. After a long battle, Jackson finally began receiving innovative treatments to stop the progression of SMA.

It was just the beginning of the hard work for Jackson. He's been tackling most tasks by scooting or rolling on the floor because he is unable to stand, walk, or get in and out of his wheelchair on his own. With Easterseals therapy, things are changing! Jackson is building strength and endurance. He's learning to use muscles in his arms and legs. He's learning to crawl. And he's working very hard to transfer in and out of his wheelchair independently! "Jackson has made gains I never thought I would see in my lifetime," said his mom Elissa.

"I firmly believe my son's care team at Easterseals are angels on earth, and I will never be able to express how eternally grateful I am."

Generous Easterseals supporters are crucial members of that team! Donors and volunteers make essential services possible for so many Tri-State children and adults with disabilities. We thank all friends of Easterseals who empower local people like Jackson to achieve their own dreams!
Follow our link to read more local Easterseals Impact Stories.