The gift of hearing is the gift of learning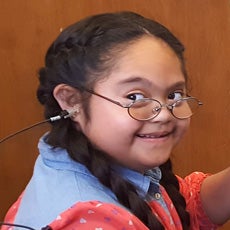 Children with hearing loss go through lots of special testing, hearing aid fittings, and check-ups. It can be confusing for any kid. Just imagine how overwhelming – and even scary – it might be for a child with a disability who doesn't speak English! Thanks to YOU, that's not the case at all for 10-year-old Guadalupe! Because of YOUR SUPPORT, Guadalupe receives audiology services at the Easterseals Rehabilitation Center, where she has fun and feels at home.

Guadalupe – nicknamed Lupeda by her family – has Down syndrome, as well as a significant hearing loss in her left ear. At school, it's essential for her to understand her teacher so she can learn along with her classmates. That means regular hearing assessments are critical, and so is testing and adjustment of the hearing aid she received at the Easterseals Rehabilitation Center.

Lupeda and her mom travel an hour each way from their home in Washington, Indiana, for the highly specialized pediatric audiology services that YOU make possible at Easterseals. The family speaks Spanish and a volunteer translator attends every session with them.

During a recent visit, the Easterseals audiologist used fun testing methods, with Lupeda "feeding" a toy pig and dinosaur when she recognized sounds in her headphones. Lupeda's hearing was stable, but because she had grown, she needed a new hearing aid mold to hold her device securely in her ear, allowing it to work properly. While Lupeda waited for the mold to harden and played with toys, her mom learned a new technique to clean her daughter's hearing aid, ensuring that she'll continue hearing as clearly as possible.

YOU are helping Lupeda hear her teacher, communicate with her friends and family, and learn the skills to reach her greatest potential! THANK YOU for giving Lupeda the gift of sound today­–and a bright future tomorrow!
Follow our link to read more local Easterseals Impact Stories.